Three students win the multidisciplinary case competition on co-operatives
November 23, 2018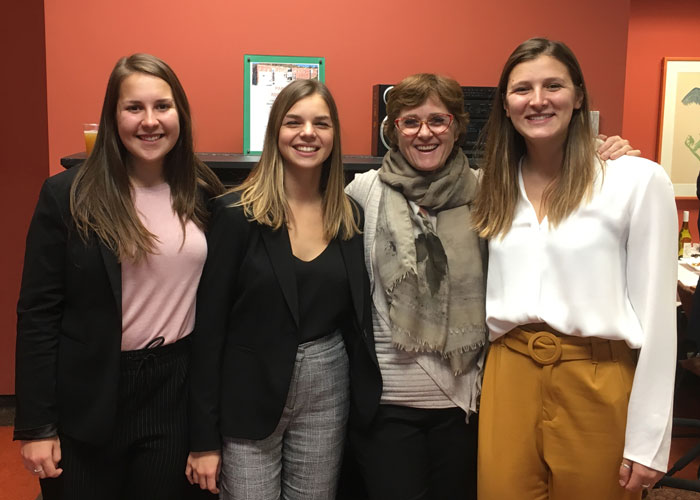 Valérie Néron, Delphine Dagenais, Martine Vézina and Frédérique Lalonde. Absent: Chantale Mailhot.
Delphine Dagenais, Frédérique Lalonde and Valérie Néron, 3rd-year students in the Baccalauréat en administration des affaires (BBA), won the 2nd edition of the Concours de cas multidisciplinaire sur les coopératives, held at the Université de Sherbrooke on November 9.
"Our case assignment for the competition was to ease the tensions in a solidarity co-op," explain the winners. "We had to address various issues relating to human resources, governance and collaboration among members. Since it was a co-operative environment, we felt that it was important to give all three issues equal priority so as to motivate members and maintain a harmonious work atmosphere."
The HEC Montréal team had 3 hours to read the case, come up with a solution and prepare a 20-minute presentation with a 5-minute question period. The judges were impressed with the quality of their analysis and recommendations, showing a very good understanding of the specific challenges involved in managing a co-operative
The judges also appreciated their structured approach, their concrete and clear solutions, and their professionalism and enthusiasm. The winners each received a $1,000 prize. The three students were coached for this competition by professors Martine Vézina and Chantale Mailhot.
About the competition
The competition is an initiative by four universities: HEC Montréal, ESG UQAM, the Université de Sherbrooke and Université Laval. It consists of six weeks studying the co-operative business model and the specifics of its day-to-day management, and ends with the one-day competition. The teams have to solve one case a week over this six-week period, under the same conditions as the actual competition, to help them prepare for it.