Jean Chagnon receives an honorary PhD
November 21, 2018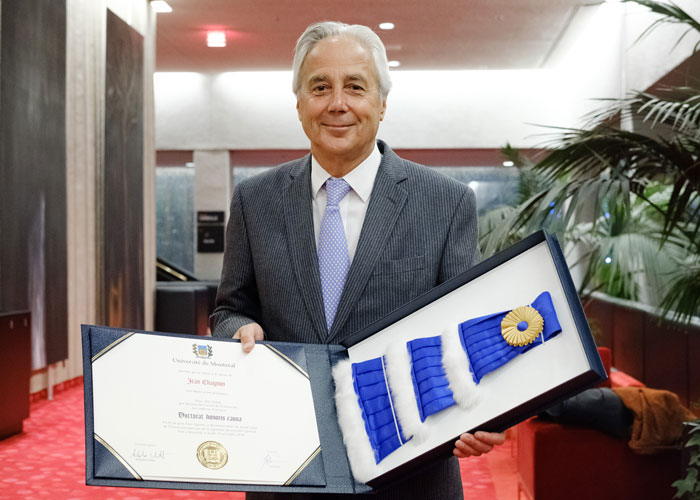 Jean Chagnon
The Université de Montréal, at the recommendation of HEC Montréal, conferred an honorary PhD on Jean Chagnon at the Master's-level convocation ceremony on November 19, in Théâtre Maisonneuve at Place des Arts.
Mr. Chagnon was born in Montréal in 1949, and studied at Collège Stanislas, HEC Montréal and Oxford University. For 34 years, he was the President and CEO of Lallemand, a Canadian family business specializing in the development, production and marketing of yeast, bacteria and specialty ingredients. During that time he greatly contributed to the firm's international expansion. He took over from his father in 1981 and his son, Antoine, has been at the helm since 2015.
From a small producer to a large international concern
When Mr. Chagnon joined Lallemand in 1975, the company had 42 employees in Canada. Over the years, thanks to a more diversified product line and constant growth abroad, he managed to transform the small baking yeast producer into a major international concern active in a variety of sectors, from baking to wine making, pharmaceuticals, animal nutrition and more.
Lallemand in figures, today
Over 3,700 employees in 45 countries
11 business units
Some 40 production sites in 20 countries
Over 80% of sales outside Canada
Under Mr. Chagnon's leadership, Lallemand also made innovation one of the key aspects of its success, by investing substantially in research. Today the company has nine R&D centres worldwide.
A forward-thinking and inspiring leader
Mr. Chagnon stands out as a forward-thinking and inspiring leader, one who took the family business to new heights by successfully focusing on diversification and innovation, and smoothly transferred the direction of the company to a 3rd generation of Chagnons. HEC Montréal is proud to award him this honorary PhD.