A New Hub for Data in Culture
June 13, 2018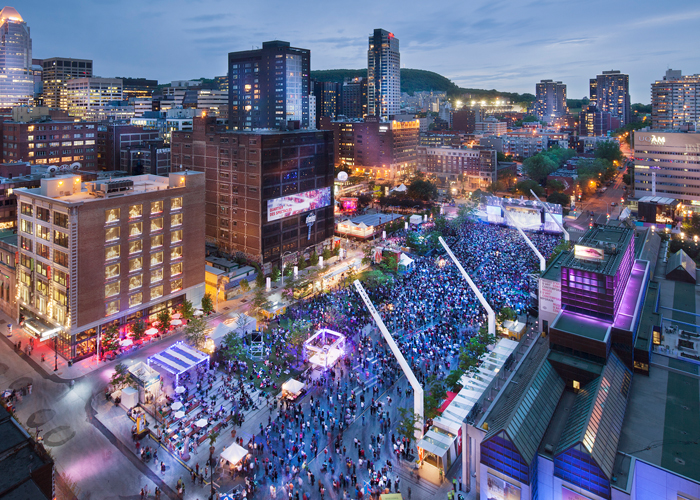 On June 7, HEC Montréal and the Quartier des Spectacles Partnership announced the creation of the Hub for Data in Culture (Pôle sur les données massives en culture). It is intended to provide expertise and training to Quebec's cultural enterprises, helping them benefit from the many possibilities opened up by advances in data science and analysis.
The Hub was selected based on a call for proposals resulting from a measure included in Quebec's Digital Economy Action Plan, produced by the Ministère de l'Économie, de la Science et de l'Innovation. It was named one of Quebec's 9 centres of digital excellence, and as such will receive $600,000 in government funding over 3 years.
In the fall of 2016, the Quartier des Spectacles Partnership launched a data-sharing initiative in collaboration with members of the Quartier's cultural sector. In March 2017, HEC Montréal and the Institute for Data Valorization (IVADO) joined the philanthropic data initiative led by AIMIA, a marketing agency, to analyze data from 20 cultural organizations based in the Quartier. Lastly, in June 2017, the Carrefour de philanthropie des données, a project led by IVADO in collaboration with AIMIA and HEC Montréal, was launched by Marketing Professor Renaud Legoux and Decision-Science Professor Marc Fredette. (See the news item from June 13, 2017.)
he first edition of the Carrefour, in 2017, focused on culture. The 2018 edition, which ended on June 8, was devoted to analyzing the intersection of data from the culture and transportation sectors.
Professors Legoux and Fredette view the potential of the new Hub with great optimism:
"The data that cultural enterprises allow us to work with provide unparallelled learning opportunities for our students, because the experience is grounded in reality, involving organizations that have real business issues," said Professor Fredette.
"Our hope is that the Hub will encourage the cultural sector to make use of big data by showing companies the accessible, extremely rich character of the information found in large data sets, which need only to be analyzed in order to reveal their value," summed up Professor Legoux.
In more concrete terms, the Hub will let arts and culture organizations acquire new knowledge, optimize their use of resources and, eventually, develop cultural products tailored to public demand. They will also be positioned to promote their offerings in optimal ways and develop relational marketing strategies.