HEC Montréal and its partners praised for their contribution to Canada-Italy relations
The Premio Venezia awarded for academic collaboration on the MMIAM
October 10, 2017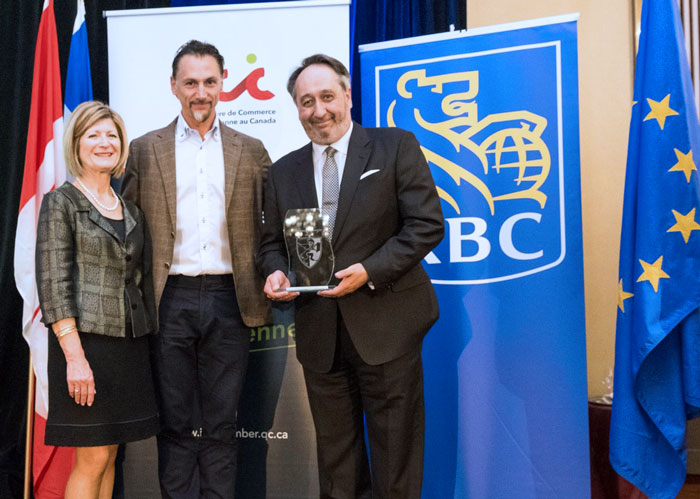 Danielle Virone, Executive Director of the ICCC, Ivan Cavallari, Artistic Director of Les Grands Ballets Canadiens de Montréal, and Michel Patry, Director of HEC Montréal.
The Italian Chamber of Commerce in Canada has awarded HEC Montréal and its partners, SDA Bocconi School of Management in Milan and the Southern Methodist University (SMU) in Dallas, a Premio Venezia award in the Scientific/Academic Collaboration category, for their joint Master of Management in International Arts Management (MMIAM) program.
The Premio Venezia salutes institutions, businesses and leaders in different fields for their contribution to improving business relations and scientific collaboration between Canada and Italy.
HEC Montréal Director Michel Patry accepted the award on behalf of the School and its partners at the Premio Venezia Award Ceremony, on Thursday, October 5, in Montréal.
HEC Montréal, SDA Bocconi and the SMU tied for the award with two other groups of Canadian and Italian universities. The first of these groups consists of the Centre Énergie, Matériaux et Télécommunications at the Institut national de scientific research (INRS), the Department of Chemistry at McGill University and the Istituto di Struttura della Materia – Consiglio Nazionale delle Ricerche. The second group is the John Molson School of Business Summer School, the Libera Università di Lingue e Comunicazione and the Università Carlo Cattaneo.
The MMIAM in short
The MMIAM is a Master's-level program with the mission of training a new generation of managers to hold positions related to the international dimension of organizations in the performing arts, the heritage sector or in cultural industries.
HEC Montréal and SDA Bocconi have some 50 permanent professors specializing in cultural management, far exceeding any other pair of universities around the world.
During the intensive 12-month program, students spend a term in each of the three cities participating in the program. These immersions give them the opportunity to learn more about the arts, culture and organizations in each country.
The program was founded in 2013 and already has 48 graduates from 16 countries.