Congratulations to the 228 award recipients in fall 2017!
December 22, 2017
All in all, 228 students were awarded $810,000 in scholarships and bursaries at ceremonies on December 5, 12 and 14. The HEC Montréal Foundation offers its congratulations to these students who, through their grades, studies, involvement or ambition, so clearly embody excellence and achievement.
DONORS ARE THANKED FOR THEIR ENGAGEMENT
The recipients had the opportunity to thank donors in person and to explain the positive impact of their financial support. Many donor members of the Council of Governors, the Ambassadors Club and the Club des 100 de la Fondation HEC Montréal attended one or more of the ceremonies, and were lauded for their contribution to the success of the School and its students.
"HEC Montréal is working harder all the time to consolidate its achievements, distinguish itself through innovation and train future leaders who will make a valuable contribution to the growth of our businesses and our society," said HEC Montréal Director Michel Patry. "Our success, here at home and abroad, depends largely on you. Your contribution helps to make a difference, to enhance students' learning experience, and to attract and retain the top students. Thanks to your support, we are continuing to excel," he concluded.
DECEMBER 12 CEREMONY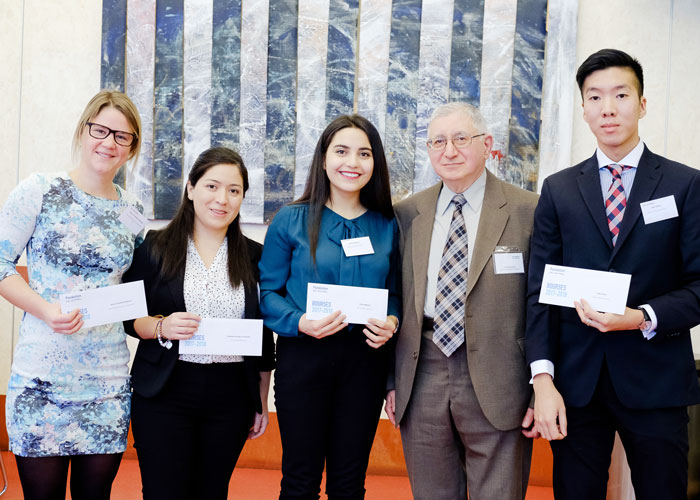 Paul Morimanno (HEC Montréal, 1959), donor member of the HEC Montréal Foundation Council of Governors, has been awarding scholarships to HEC Montréal students since 2005. He is seen here with Ariane Tremblay-Desbiens, Estefania Jauregui Castaneda, Selma Madoui and Alex Chhon.
See photos from the ceremony in our Facebook album.
HYDRO-QUÉBEC SCHOLARSHIPS
Six students were rewarded for their efforts at the Hydro-Québec scholarship ceremony on December 5 at the School. A total of $80,000 in scholarships was awarded to these HEC Montréal students who are carrying out postgraduate studies in fields of interest to Hydro-Québec.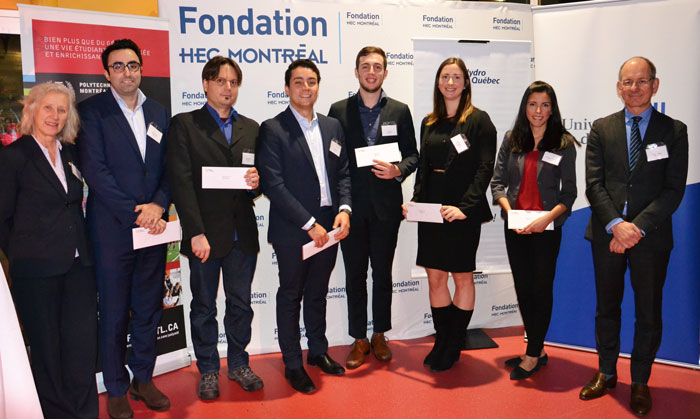 Michèle Breton, Director of Academic Affairs, HEC Montréal, with Pouya Ebrahimi and Sébastien Carton (PhD), Bachir Mouhyi, Félix Séguin, Éliane Sheedy and Patricia Amacifuen-Vilchez (MSc), and Christian Bélanger, Director of Scientific Research at the Institut de recherche d'Hydro-Québec.
DECEMBER 14 CEREMONY
Peter R.D. Mackell made a $2 million bequest to create an endowment fund that provides four $25,000 scholarships every year to PhD students at HEC Montréal. At Mr. Mackell's request, in an enduring gesture of friendship toward Peter Letko and Daniel Brosseau (HEC 1977), the fund bears their names.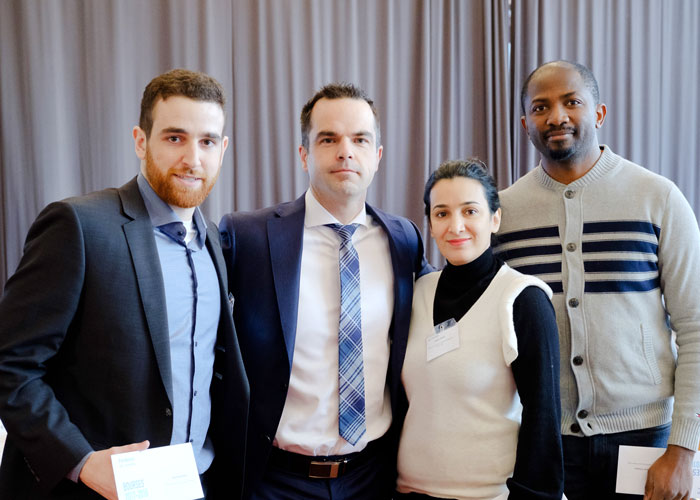 In the centre, David Després, analyst at Letko, Brosseau and Associates, with Pierre-Etienne Pilote, Pegah Sajadi and Armel Quentin Tchanou.
See photos from the ceremony in our Facebook album.
See the souvenir program from the scholarship ceremonies!
DOnors – fall 2017
Donor organizations
Individual donors
Aimé Quintal
Alma Lepage
Association des diplômés de HEC Montréal
Cécile et Pierre Shooner
Claude Chagnon
Danielle Dagenais-Pérusse
Éric et Claire Morisset
Famille Déry-Therrien
Famille Louis Larivière
Famille Morimanno
Fondation Benoit-Duchesne
Fondation Francis et Geneviève Melançon
Fonds de bourses Daniel-Brosseau et Peter-Letko
Serge Poisson-de Haro (Impact Gestionnaires Organismes Culturels)
Jacques Landreville
Jean-Denis Duquette
Jean-Louis Mercier
Jeannine Guillevin Wood / Guillevin International
Jean-Philippe De Montigny
Léo-Paul Roy
Martin Charbonneau
Pierre Fitzgibbon
Promotion MBA 1985
Richard Dorval
Robert Denis
Succession André Bergevin
Succession André-Trudeau
Succession Gilles Mercure
Bursary donors
Association des diplômés de HEC Montréal
Association des étudiants aux programmes de certificats - AEPC
Association des étudiants au B.A.A. soir
Bouse humanitaire P. Cauchi et S. Bologna
Famille Denis Girouard
Fondation Albert Hudon
Fondation Guy Charron – HEC – Édouard-Montpetit
Fondation Gérard Plourde
Fondation HEC Montréal
Fondation Joseph Masson
Fondation Roland et Germaine Plante
Sambou Coly