Mathieu Baril and Marc-Antoine Saumier win the 2017 ARDI awards
February 6, 2017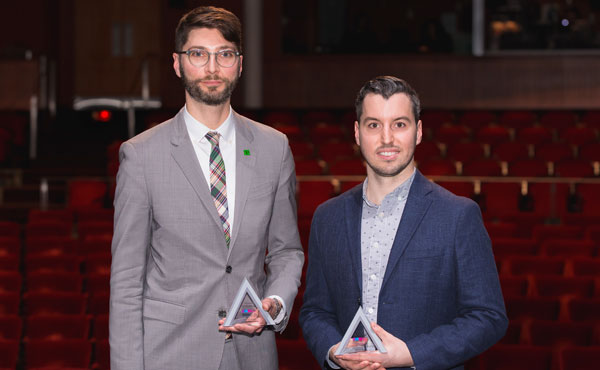 The ARDI awards, a joint initiative of the Brigade Arts Affaires de Montréal (BAAM) and the Carmelle and Rémi Marcoux Chair in Arts Management at HEC Montréal, went to Mathieu Baril and Marc-Antoine Saumier.
The awards were presented on February 1 by Stéphanie Lavallée and Benoît Beauchemin, Co-Presidents of the Brigade Arts Affaires de Montréal (BAAM), and by François Colbert, Full Professor in the Marketing Department and holder of the Carmelle and Rémi Marcoux Chair in Arts Management at HEC Montréal.
ARDI is a combination of the French words "art" and "hardi," meaning a bold person who displays daring and originality. The goal of the awards is to salute and celebrate the daring and philanthropic innovation of someone age 40 or under in the business community, and a manager age 40 or under working in a cultural organization (with a budget of less than $1 million). For this first year, 24 nominations were received, split almost evenly between cultural and business figures.
Mathieu Baril, winner of the cultural manager section of the award, is Private Funding Coordinator with Tangente, a contemporary dance company.
Marc-Antoine Saumier, winner of the young business leader section of the award, is the Branch Manager of the TD Bank at 1018 rue Ste-Catherine Est in Montréal.
Cultural manager section: Mathieu Baril
Mathieu holds a degree in photography from Concordia University and a Master's in management of cultural enterprises from HEC Montréal. He began his career as a manager in 2013, with Art Souterrain, where he was in charge of support for emerging artists and later of communications and the creative experience, in 2014–15. Between these two mandates he worked as marketing coordinator of the 2014 POP Montréal Festival.
Since 2015, he has been the Private Funding Coordinator for Tangente and Agora de la danse. His duties involve designing a sponsorship and donor development plan, which includes a number of initiatives: the Donnez Dansez campaign, with a target of $200,000 from individual donors, partnerships with innovative start-ups, and the Give a hand to move a mountain! crowdfunding campaign. As part of this innovative crowdfunding campaign, choreographers scheduled to present works in 2016–17 received strategic support and training that helped them mount successful campaigns on these new platforms. The Caisse Desjardins de la culture contributed $500 per project after the first $1,000 was collected, for a total of $3,500. The investment raised over $18,000 thanks to generosity of 250 donors.
The ARDI jury emphasized "the originality of Mathieu Baril's initiatives and the partnerships he has established to equip and provide ongoing support for choreographic creation and contemporary dance in the Wilder building."
Young business leader section: Marc-Antoine Saumier
After studying graphic arts at Collège Ahuntsic, Marc-Antoine Saumier began working for Xerox Canada in 2003, as a Reseller Support Specialist, and then as Reseller Development Manager, before becoming Supplies Business Manager, in 2008. In 2013 he became Account Manager, Enterprise Group, with Domtar, and in 2015, a Branch Manager with TD Bank.
In 2012, Marc-Antoine contacted the Montreal Museum of Fine Arts with a view to helping the Museum create a circle of young philanthropists. The first event he organized was a D-Vernissage, aimed at involving professionals ages 25–45 in the Museum's activities. In 2016, he helped put together the first fundraising event for LGBT literature at the Blue Metropolis festival and, through the TD Bank, he has supported a number of initiatives aimed at integrating music into the lives of young people in the Centre-Sud neighbourhood.
In presenting the ARDI award to Marc-Antoine Saumier, the jury emphasized "the winner's innovative contribution to the relationship between arts and business, his forward-looking approach, his energy and his involvement in several cultural fields."
The ARDI awards each come with a $2,500 prize and are presented by the Brigade Arts Affaires de Montréal. In keeping with the winners' wishes, the cash prizes will be donated to Tangente and the Darling Foundry.
The jury was made up of:
Sébastien Barangé, Vice-President, Communications and Public Affairs, CGI;
Valérie Beaulieu, Executive Director, Culture Montréal;
Madeleine Careau, CEO, Montreal Symphony Orchestra;
Maxime Codère, Vice-President, Restructuring and Turnaround, KPMG;
François Colbert, Full Professor in the Marketing Department and holder of the Carmelle and Rémi Marcoux Chair in Arts Management, HEC Montréal
Francine Lelièvre, Executive Director of Pointe-à-Callière, the Montréal Archaeology and History Complex
---
Photo: Marc-Antoine Saumier (Cultural manager) on the left and Mathieu Baril (Cultural manager) on the right. Credit: Charles Bélisle.