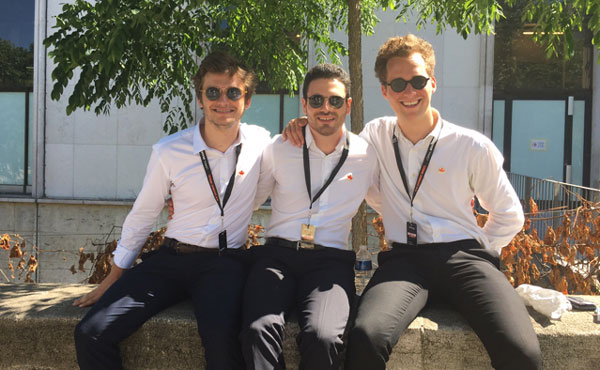 The Lewis Team (from left to right): Marco Patanella (Polytechnique Montréal), Umberto Najar et Nicolas Fisch (HEC Montréal).
The team of two BBA students from HEC Montréal and one student from Polytechnique Montréal, who won the Canadian and pan-American finals of the L'Oréal Brandstorm competition, took 2nd place in the world finals in Paris, on June 15. Nicolas Fisch, Umberto Najar and Marco Patanella once again wowed the jury in the TECH round, thanks to their "intelligent" gadget dubbed Lewis. This year's Brandstorm competition was held in co-operation with the L'Oréal Men Expert brand for men, whose ambassador is racing car driver Lewis Hamilton.
Our team's "Lewis" is a tiny 6 cm x 6 cm, water-resistant item fitted with a suction cup, designed to be installed in a bathroom. Lewis' artificial intelligence technology lets it recognize the human voice and, using Facebook and the Messenger application and an algorithm, answer its user's questions and offer suggestions on using personal care products. For instance, the user can simply ask Lewis to order a new bottle of shampoo and have it delivered, suggest new products, or offer personal care tips for men.