Second annual tax clinic at L'Itinéraire thanks to a BBA student's social commitment
March 17, 2017
Étienne Grenier started volunteering last year with L'Itinéraire, a social reintegration organization. "It had nothing to do with a tax clinic. I just wanted to give some time to an organization," says the BBA student, who is enrolled in the economics specialization.
As tax return time loomed, he began wondering whether there were any tax clinics for the organization's clients. When he asked one of the L'Itinéraire employees, he was told that there was no such service and that a clinic would be a great idea!
"So I decided to organize one," Grenier says. The project received support under the Canada Revenue Agency's Community Volunteer Income Tax Program.
The clinic is open to people signed up as newspaper vendors, who are eligible for L'Itinéraire services. "Out of everyone who is signed up, there are perhaps 150 to 200 active vendors who could come and see us."
Some fifteen students volunteers from the School are working in the clinic, held in the L'Itinéraire offices. "Two of last year's volunteers helped me organize this second edition," Grenier notes.
The L'Itinéraire tax clinic was held on March 16 and 17 this year.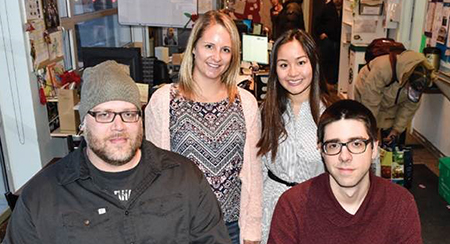 From left to right: Jean-François Morin Roberge (agent de soutien communautaire de L'Itinéraire), Marie-France Bergevin, Élise Pesant et Etienne Grenier (BAA students). Credit: Mario Alberto Reyes Zamora.