1st place in the Rotman Sustainability Innovations Case Competition
January 25, 2017
HEC Montréal MBA program students won the Sustainability Innovations Case Competition hosted by the Rotman School of Business of the University of Toronto on January 21.
This year the teams had to come up with a business strategy to reduce CO2 emissions in existing skyscrapers.
The HEC Montréal team of Loic Angot, Simon Boisjoly, Carolina Marcucci, Laura Rubio and Hadrien Seymour-Provencher suggested a business solution bringing together owners of large towers and energy efficiency consultants. 
"The case was very well put together, with very high-level judges," says Loic Angot. "Presenting our solution in front of people from the industry who manage huge property portfolios added to the pressure. But we made a concrete, feasible proposal and were able to answer the judges' specific questions, which they really appreciated."
Three of the 12 teams in the competition made it to the final round: one from the UofT Rotman School of Business and one from the University of Waterloo, in addition to the HEC Montréal delegation.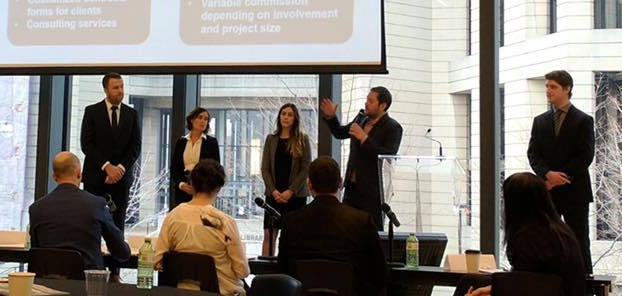 HEC Montréal team presenting their business strategy. Photo credit: Rotman Net Impact.