Over 600 scholarships in the winter 2016 term!
April 27, 2016
The excellence, commitment and entrepreneurial spirit of HEC Montréal students were saluted at four scholarship ceremonies in April. Thanks to the generosity of many donors, the Fondation HEC Montréal awarded $1,600,265 in scholarships to 615 students in the winter 2016 term.
To see these students in action, take a look at the photos from the ceremonies and the video of the scholarship winners' surprised reactions. 
The fifth and last ceremony is planned for May 25 (see photos). 
Congratulations to all the scholarship recipients, and huge thanks to all our donors!
CORPORATE DONORS
INDIVIDUAL DONORS

20-20 Technologies
Ad hoc recherche
Allard, Allard & associés
ArcelorMittal
Association de la gestion de la chaîne d'approvisionnement
Association des agences de communication créative (A2C)
Association des diplômés de HEC Montréal
Association des étudiants aux cycles supérieurs (AECS)

Association des étudiants aux programmes de certificat (AEPC)
CIBC
HSBC Bank Canada
Laurentian Bank
Scotiabank
Bechtel
BMO Financial Group
Caisse de dépôt et placement du Québec
CHAPPUIS HALDER & Co. (CH&Co.)
Club des 100 HEC Montréal
Club des entrepreneurs
Coop HEC Montréal
Deloitte
Desjardins – Fédération des caisses du Québec
Enterprise Rent-a-Car
EY
National Bank Financial
Sun Life Financial
Fondation des comptables professionnels agréés du Québec
Fondation HEC Montréal
Fondation J. A. DeSève
Fondation J. Armand Bombardier
Fondation universitaire Pierre Arbour
Fonds Alexandre-Grimard
Formula Growth – Dobson
Youth Fusion
Gestion Cristallin Inc.
HEC Montréal
IDEOS
Jeannine Guillevin Wood – Guillevin International
KPMG
Kruger inc.
Lallemand

L'Oréal Canada

Manuvie

Marcel et Roland Chagnon
Metro
MSB Ressources Globales
Pratt & Whitney
Produits forestiers Résolu
PwC
Québecor
Raymond Chabot Grant Thornton
Richter
Sanofi Pasteur
SYRUS Réputation
The Great-West Life Assurance Company

Pierre Alajarin
Germain Benoit
P. Cauchi and S. Bologna
Fonds Viêt Buu
Martin Charbonneau
Fondation Guy Charron
Robert Coté family
Décary family
Robert Denis
Marc DeSerres
Désormeaux family
Fonds Pierre Donaldson
Anonymous
Bernard Dumais, FCA family
Jean-Denis Duquette
J.-Jacques Elie family
Faucher-Patard
Jacques Foisy
Diane and Jean-Pierre Gagné family
Louis and Gabriel Gendron
Diane Giard
Fonds Famille Denis Girouard
June Hébert
Albert Hudon estate
Rodolphe J. Husny
Wenceslas Jiranek
Jacques Landreville family
Guy Langlois
Fonds Emmanuelle Leclerc
Les amies d'affaires
Richard Lupien family
Pierre Mantha (Financière Mazarin)
Jean-François Marcoux
Susan McDougall Chartrand family
Nicolas Milette family
Jean-François Ouellet
Alain Paris family
Léo Scharry
Cécile and Pierre Shooner
Paul Simard family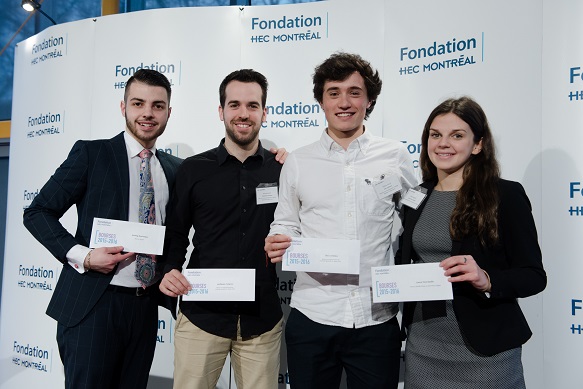 Some of the scholarship winners at the April 12 ceremony: Razmig Boussouyan (Kruger scholarship); Guillaume Campeau (Rachelle and Alain Paris scholarship); Théo Corboliou (Rachelle and Alain Paris scholarship); Laurie Doré-Ouellet (Diane and Jean-Pierre Gagné family scholarship). Photo: Sylvie Trépanier.