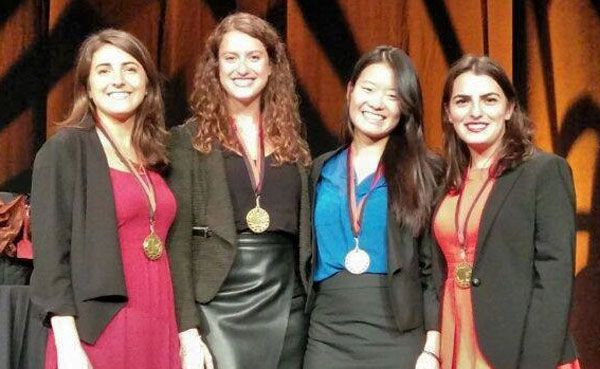 For the second straight year, the HEC Montréal team took top honours in the Global Student Final organized by APICS, the premier professional association for supply chain management.
The HEC Montréal ReFresh team was made up of Master's students Amélia Di Liello-Roberge, Cathy Pak, Sabine Signor and Julie Soriano.
"Our multidisciplinary team's superb ability to work together and to communicate openly was definitely our greatest competitive advantage," says Julie Soriano. "We succeeded by drawing on everyone's strengths."
The competition, held in Washington from September 25 to 27, brought together teams from 14 universities around the globe.
"Supply chain, logistics, and operations management are among the fastest growing career fields. The APICS/TFC Global Student Final is an opportunity for students to showcase their knowledge and build their skills for the future," said APICS CEO Abe Eshkenazi. "Congratulations to everyone involved, especially our winning team, ReFresh."
Our congratulations to the team members and their coaches: Yossiri Adulyasak (Assistant Professor, Logistics and Operations Management), Nicolaï Rassolov and Stewart Soh.