Treating blue-green algae: Justin Leroux part of an Institut EDDEC genomics-based research project
December 19, 2016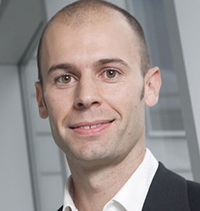 Associate Professor Justin Leroux is working on a research project aimed at identifying solutions for dealing with blue-green algae, or cyanobacteria, blooms.
The project is an initiative of the Institut de l'environnement, du développement durable et de l'économie circulaire (EDDEC), bringing together professors, researchers and students from Polytechnique Montréal, the Université de Montréal and HEC Montréal.
The goal is to assemble a genomics-based "toolkit" that can be used to determine the toxicity risk from cyanobacteria in bodies of water. The tools will be used by municipalities and water-quality authorities to establish strategies for preventing cyanobacteria blooms, treating water and safely eliminating blue-green algae scum.
Professor Leroux will be studying the economic and social viability of implementing different technologies developed by the team's microbiologists, to anticipate or prevent cyanobacteria blooms.
"These episodes are increasingly common in lakes, rivers and streams in Quebec and the rest of Canada. We want to propose long-term, affordable preventive strategies for protecting bodies of water," explains Leroux. "This project will also be an opportunity to involve HEC Montréal students."
By analyzing work being done locally, nationally and internationally, the project is also intended to forge connections among researchers, government authorities, legislators, municipal representatives, environmental groups, agricultural producers, companies and the public.
Genome Canada and Génome Québec have granted four-year funding of $12.3 million to this project.