Marie-Agnès Parmentier wins the prestigious Sidney J. Levy Award
July 14, 2016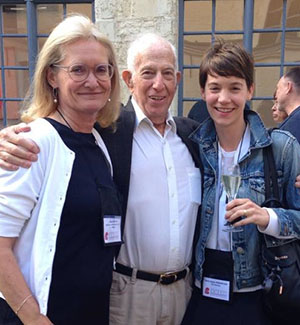 Congratulations to Associate Professor Marie-Agnès Parmentier (Marketing), who received the prestigious Sidney J. Levy Award from Consumer Culture Theory for one of her articles, at its annual conference held last weekend in Lille, France. This distinction is presented annually for an outstanding article in the field of consumer culture theory.
Co-authored with Eileen Fischer of the Schulich School of Business and published in the Journal of Consumer Research, the winning article, entitled "Things Fall Apart: The Dynamics of Brand Audience Dissipation," considers the role of consumers in the decline of a brand.
"Whereas previous studies looked more at how fans of a brand can contribute to the value enjoyed by other members of its audience, we wanted to examine the process by which these consumers can contribute to the dissipation of that audience," says Professor Parmentier.
The co-authors used longitudinal data on the America's Next Top Model show. Their study suggests that explanations focusing on satiation, psychology or semiotics are inadequate to account for the dissipation in the audience for a serial show's brand. They also suggest that consumers can largely contribute to the decline in the brand of a show that they once avidly followed.
ProfessorParmentier holds a PhD in Business Administration from the Schulich School of Business (York University) and an MSc in Marketing from HEC Montréal. She has taught at the School since 2009. A member of the Carmelle and Rémi Marcoux Chair in Arts Management, Professor Parmentier focuses her research on brand strategy in the aesthetics and entertainment markets.
In 2011, she received the Reviewer Excellence Certificate from the Family Business Review, published by the Family Firm Institute. In addition, with co-authors Linda Tuncay Zayer, Katherine Sredl and Catherine Coleman, she won the award for the best paper published in 2012 in Consumption Markets & Culture, for "Consumption and Gender Identity in Popular Media: Discourses of Domesticity, Authenticity, and Sexuality."
Photo: Co-author Eileen Fischer, Sidney J. Levy, still at the University of Arizona at age 95, and Professor Parmentier. (Photo credit:Catherine Coleman)