Two BBA students win the Grand Prize in the MOUVEMENT social innovations competition!
February 18, 2016
BBA students Guillaume Campeau and Théo Corboliou have won the Grand Prize in the MOUVEMENT social innovations competition held by Novae and Loto-Québec, for Give-a-seat, a platform that lets ticket holders donate unused tickets to sports and cultural events so that the proceeds can go to charity. The project was chosen from 10 finalists, and the pair will receive $10,000 to make it a reality.
About Give-a-seat
The Give-a-seat platform lets holders of sports and cultural series tickets donate their unused tickets, so as to raise funds for charities in their name.
"At many events, ticket holders waste plenty of their tickets," emphasize the two winners. "We wanted to make these events more accessible to everyone. Rather than a resale site that jacks up ticket prices, our site will sell them at a 50% discount, making them accessible to people who can't normally afford them. And almost all the proceeds from the sale will go to a charity chosen by the donor."
The two students, who have already received significant support from HEC Montréal through the Rémi Marcoux Entrepreneurial Track and the Entrepreneurship specialization in the BBA program, hope to launch their project in Canada within the next ten months, before expanding their platform to other countries.
"Everybody wins with our platform," Guillaume and Théo conclude. "Events fill up empty seats, ticket holders make donations to the organization of their choice without having to spend a cent, people can get cheaper tickets, it helps stop scalping and, most important, charities receive cash donations so that they can continue doing their good work."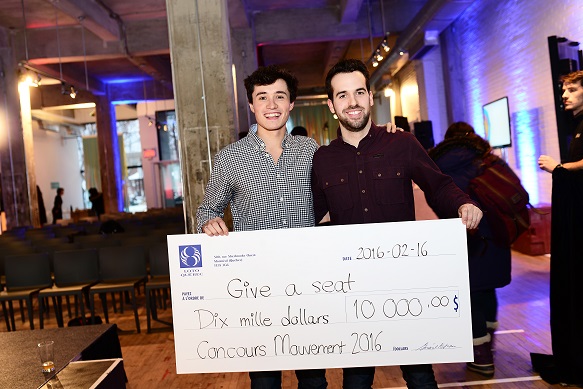 Théo Corboliou and Guillaume Campeau
Photo: Sylviane Robini Photographe