BBA students donate over $80,000 to the Fondation Centre de cancérologie Charles‐Bruneau
October 7, 2016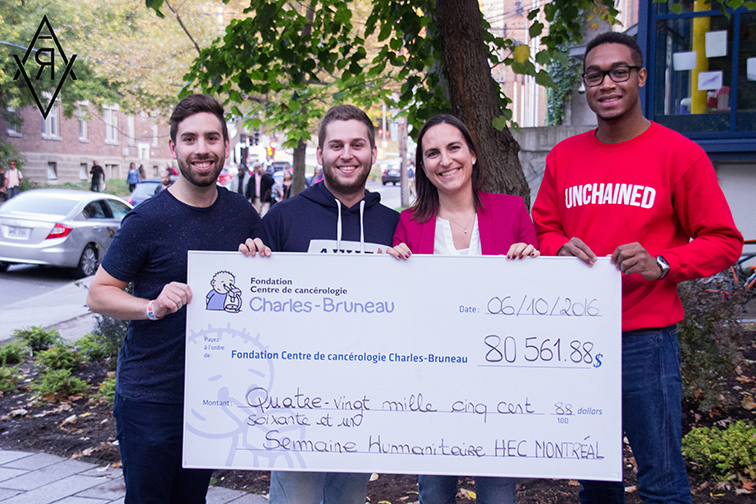 In September, HEC Montréal first-year BBA students raised $80,321 for the Fondation Centre de cancérologie Charles‐Bruneau.
This is a record donation for the Association des étudiants de HEC Montréal (AEHEC), which organized the fundraising drive during orientation for new BBA students.
"Orientation is much more than initiations," says Jeanne Labelle, VP, Public Relations of the AEHEC sports and recreation committee. "It really makes people want to get involved in student life. Without orientation, we would never have been able to raise such a large sum."   
More than 1,000 students were formed into 16 groups, each headed up by a 2nd-year student. Each group had to devise its own fundraising strategy. Some of them organized morning collections downtown, and others at the Bell Centre on game evenings.  Other teams ran bake sales or raffles.  
This is the second year the AEHEC has donated its proceeds to the foundation. "At HEC Montréal, we're right next door to the Centre de cancérologie Charles‐Bruneau at Sainte-Justine Hospital, and we were happy to give to the foundation," Jeanne Labelle explains. "The team leaders visited the Centre, and were moved and inspired by the people they met there. We're really proud to be among its donors."
"I am touched by the solidarity of the HEC Montréal students who once again this year chose to give the foundation the donations they raised during their humanitarian week," says Rébecca Dumont, Executive Director of the Fondation Centre de cancérologie Charles-Bruneau. "Their tremendous generosity and valuable commitment will go toward realizing the dream of a cure held by all the children with cancer in Quebec."  
Last year as part of the same activity, the AEHEC raised $62,586 for the Fondation Centre de cancérologie Charles‐Bruneau.
The Fondation Centre de cancérologie Charles‐Bruneau, created in 1990, is exclusively dedicated to fighting pediatric cancer in Quebec. It funds research and invests in all the university hospitals in Quebec that treat these children, to help keep their facilities on the cutting edge and well adapted to families' needs.