Double victory for HEC Montréal at the APICS international competition
October 8, 2015
HEC Montréal students were the stars of the APICS Global Student Case Competition, taking the top two spots in the international Logistics and Operations Management case competition in Las Vegas!
The "Juice in time" team of Sami Birem, Francis Lapointe, Stewart Soh, Léonard Vincent (MSc) and Vanessa Dalpé (BBA) were crowned overall winners, while the "GoJIT" team of MSc students Jing Jin, Jingshu Liu and Kaiqi Shu took second place.
Over 400 teams faced off in this major competition, involving several rounds from January to October.
Our congratulations to both teams and their coaches, Nicolai Rassolov (HEC 2009), Vice-President – Communications/Membership/Marketing of the APICS Montreal chapter, and Yossiri Adulyasak, Assistant Professor in the Department of Logistics and Operations Management!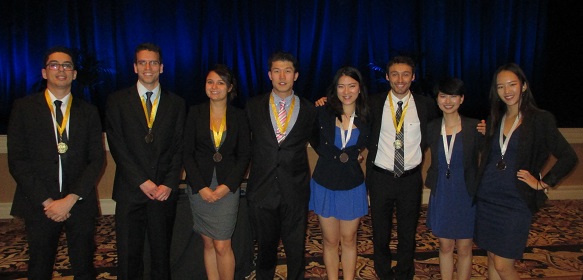 The two winning teams: Sami Birem, Francis Lapointe, Vanessa Dalpé, Stewart Soh, Kaiqi Shu, Léonard Vincent, Jingshu Liu and Jing Jin. Photo: Nicolai Rassolov.