Christian Vandenberghe named "Human Relations Reviewer of the Year"
September 24, 2015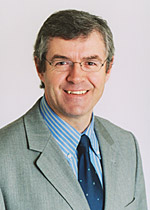 Christian Vandenberghe, a Full Professor in the Department of Management, has been awarded the title of "Human Relations Reviewer of the Year" by the Human Relations journal.
His exceptional contribution was hailed at a reception in Vancouver in August, for the nine reviews he has produced in the past twelve months.
Professor Vandenberghe earned a PhD in Industrial Psychology from the Université catholique de Louvain (Belgium) in 1996, and has won international recognition in the field of management for his research on employee commitment and performance in the organization. He began teaching at the Université catholique de Louvain, and joined the Department of Management at HEC Montréal in 2003. Since then he has taught organizational behaviour, and has been a Full Professor since 2006.
Professor Vandenberghe held the Canada Research Chair in the Management of Employee Commitment and Performance from April 2005 to May 2015. He has also been a member of the Royal Society of Canada since 2011. He has published many papers in leading journals. He also sits on the editorial committees of several prestigious journals, including the Journal of Organizational Behavior, Group & Organization Management, the Journal of Occupational and Organizational Psychology, Human Relations, and the Journal of Business and Psychology.