Six students awarded Lieutenant-Governor's Youth Medals
May 4, 2015
Congratulations to the six HEC Montréal students who were awarded Lieutenant Governor's Youth Medals on May 2. Isabelle Bouchard, Jean-François Charette, Vincent Fleury Gauvin, Sofea Jaffer, Éléonore Jarry-Ferron and Philippe Tremblay were recognized for their academic excellence and exemplary community involvement.
BBA student and triathlete Isabelle Bouchard has won several mentions of excellence, scholarships and awards. She is active in her community, having organized self-esteem workshops for underprivileged women and free dance lessons to encourage young people to be physically active, and helped students with learning disabilities. She was an Ambassador with the International Cooperative Education mission to Vietnam in March 2015, and is actively involved in student life, as a member of the boards of Coop HEC Montréal, the Association internationale des étudiants en sciences économiques et commerciales and the Club de consultation en management (CCM).
Jean-François Charette (BBA) became involved in school, community and extra-curricular activities as soon as he arrived at HEC Montréal. He joined the School's Student Investment Fund, took part in the Big Brothers and Big Sisters of Greater Montreal tutoring program for children in underprivileged neighbourhoods and put his skills to work as part of a humanitarian mission to Brazil, as part of a Campus Abroad trip organized by HEC Montréal. He is now the President of the CCM, a member of the Board of Idées Heureuses and co-founder of the Canadian Junior Consulting Confederation.
MSc student Vincent Fleury Gauvin is a member of the Sustainable Development Committee of the School's Association des étudiants aux cycles supérieurs, a participant in the Hectare urbain project, and editor of the L'Intérêt newspaper. Also member of the Ludos Committere, he launched and was one of the main organizers of a benefit evening and fundraising campaign held in 2014 (« Game-o-Thon Ludos ») for the Vanguard School in Montreal for young people with severe learning difficulties. He also works for the ACORN Canada community group.
Sofea Jaffer (MSc) masterfully combines studies, work and community involvement. A team leader with the CCM, she has worked with Action humanitaire et communautaire de l'Université de Montréal to assemble Christmas baskets for underprivileged families, helped organize fundraising efforts for the CHU Sainte-Justine Foundation and the Red Cross and taken part in various activities organized by Ansars of Mahdi Youth Group. Her world travels and her community experience in a village in Peru have taught her to adapt to new situations and given her fabulous cultural experiences.
Éléonore Jarry-Ferron (BBA 2014) is currently completing her Specialized graduate diploma in professional accounting – CPA, for which she received a mention of excellence. During her BBA studies she volunteered with the Clinique d'impôts and the Startup Weekend, and served as a CCM member. She is a firm believer in social commitment, and offered her accounting services to female entrepreneurs in exchange for donations, as a way of raising funds for the Quebec Breast Cancer Foundation. She attended an intensive entrepreneurship and management program in the summer of 2013 at Stanford University, where she distinguished herself with a GPA of 3.8. While there she founded REVOLT, an organization dedicated to helping disadvantaged young people, and has since sat on its Board of Directors.
Philippe Tremblay has been involved from the start in various committees and associations. The BBA student was Vice-President, Media for the Société de relations d'affaires and later chaired the Finance Committee. For five years he was a Board member of Minta Saint-Bruno, and has worked as an advisor for Junior Achievement Quebec, as a way of promoting entrepreneurship among high school students. He is a proud ambassador for the School, having taken part in a number of student competitions, including the Rotman International Trading Competition, in Toronto. Philippe was part of the CEGEP team that won the 2011 Tournoi jeunes démocrates at the National Assembly.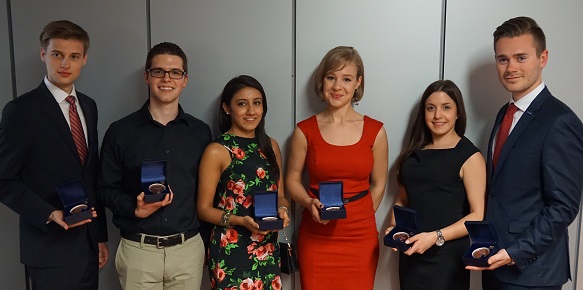 Philippe Tremblay, Vincent Fleury Gauvin, Sofea Jaffer, Isabelle Bouchard, Éléonore Jarry-Ferron and Jean-François Charrette.