Gestion: A new perspective for business readers!
March 19, 2015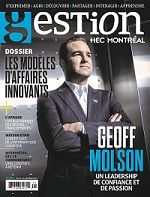 The all-new incarnation of Gestion*, HEC Montréal's quarterly journal for businesspeople, was launched today.
With its new editorial approach and graphic design, Gestion is reaching out to French-speaking players in the business world looking to hone their management knowledge and draw inspiration from the stories and viewpoints of experienced entrepreneurs.
This first issue is full of fascinating articles, including a portrait of Geoff Molson* examining his confident, passionate leadership style, as the centrepiece of an over 35-page-long feature on innovative business models. Readers can also enjoy the views of Jacques Nantel, Pierre Duhamel and Anne Darche, as well as an article by Sylvain Lafrance on Africa, the future El Dorado for francophone media.
The new version of Gestion will continue to offer accessible scientific knowledge for everyone wishing to keep abreast of advances in the constantly evolving field of management.
And there's more! Gestion is now a multiplatform experience, available online with content specifically designed for the online version and access to over 1,500 past articles. It will soon be available for IOS and ANDROID tablets, too. Plenty of free article summaries will be posted on Facebook, LinkedIn and Twitter.
With this major shift in emphasis, orchestrated by Management Professor Eric Brunelle, Director and Editor-in-Chief of Gestion, and Jean-Marc Gauthier, Director, Operations, Marketing and Business Development, the journal has completely reinvented itself.
The launch, at noon today at HEC Montréal, was attended by Sébastien Fauré, Senior Associate and CEO of Bleublancrouge, and reflected the bold and dynamic move that the journal has taken.
The next issue of Gestion will be available in June, on the theme of neuroscience and the business world.
*In French only.