Robert Dutton named a Distinguished Alumnus
February 20, 2015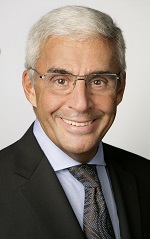 At the annual alumni reunion on February 19, Robert Dutton (HEC 1977), Entrepreneur in residence at the École d'entrepreneurship de Beauce, was named a Distinguished Alumnus, an honour granted jointly by the School and the HEC Montréal alumni network (Réseau HEC Montréal). He was recognized for his accomplished career, his integrity, his social engagement and his exceptional contribution to HEC Montréal's reputation and growth.
Robert Dutton is an inseparable part of the RONA story. In 1977, the young HEC Montréal graduate began working for the company, expecting to remain there for only a short time. And yet he was still there in 2012, and in fact served as its President for 20 years, rising through the ranks and holding a number of key positions, including Executive Vice-President and COO, and Vice-President, Development.
From the start of his term as RONA President, he oversaw a variety of operational and structural changes at the company, ensuring sustained growth and turning RONA into the leading Canadian distributor and retailer of hardware, home renovation and gardening products. One of his successes was to develop and introduce new concepts for big-box household goods stores, i.e. RONA L'entrepôt, Home & Garden and RONA Le Régional.
In addition to strengthening the company's distribution network by investing massively in new cutting-edge facilities at several strategic locations in Canada, he played a leading role in consolidating the Canadian renovation-construction market, by making some major acquisitions. He took the company public in 2002, listing RONA on the Toronto Exchange, and in 2006 issued the first RONA debentures.
Mr. Dutton is also recognized for his personal commitment, in particular to mental illness therapy, but also to young people, literacy and other causes. He has been a true friend to the School, always ready to share his experience with students and alumni. He chaired the 1999 fundraising campaign and, in 2007, was a member of the Honorary Committee for HEC Montréal's 100th anniversary celebrations. He volunteered as Professor for a Day in 2010 and was awarded an honorary PhD in 2012.
After a highly successful stint as entrepreneur-coach at the École d'entrepreneurship de Beauce, he decided to do even more to support entrepreneur-athletes there by becoming the very first coach in residence.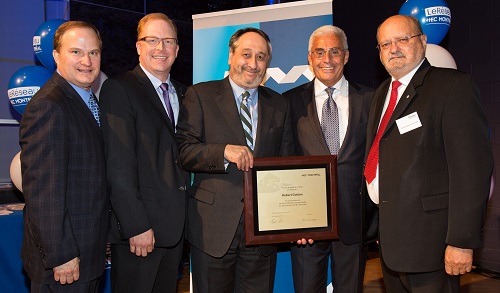 Guy Benoit (HEC 83), Director, Réseau HEC Montréal; Éric Laflamme (HEC 03), Account Manager Commercial Banking, Technology Group, National Bank, and President, HEC Montréal Alumni Association; Michel Patry (HEC 78), Director, HEC Montréal; Robert Dutton (HEC 77), Distinguished Alumnus and Entrepreneur in residence, École d'entrepreneurship de Beauce; Laurent Lapierre (HEC 75), Honorary Professor, HEC Montréal.