Senior Researcher Danny Miller named a Fellow of the Strategic Management Society
October 21, 2015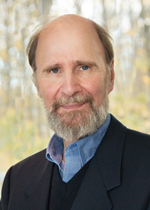 After receiving the 2015 Distinguished Scholarly Contributions to Management Award from the Academy of Management, HEC Montréal Senior Researcher Danny Miller has just been named a Fellow of the Strategic Management Society (SMS), a select group of 75 Fellows from around the world.
The purpose of the Fellows of the SMS is to recognize and honour members who have made significant contributions to the theory and practice of strategic management, as well as to provide opportunities for fellowship and a forum for discussion among persons so recognized and honoured.
Ming-Jer Chen, Fellow of the SMS, President and Fellow of the Academy of Management, introduced Miller as an SMS Fellow with great distinction: "Danny's highly distinguished career is the epitome of scholarship. The breadth and depth of his work are exceptional, placing him in the highest echelons of the strategic management field. Danny's celebrated scholarship record makes him an exemplar of our profession. His induction into our Fellowship is a fitting capstone to a long career distinguished by invaluable contributions in scholarship, research, professional service, and business practice in strategic management."
Miller joined HEC Montréal in 1981 and is currently a Senior Researcher and Director of the Research Center for Business Families. In addition to earning an MBA in Organization Theory from the University of Toronto, he holds a PhD in Management Policy from McGill University. Miller's research has been cited in scholarly works more than 45,000 times and his impact on management practice is similarly far-reaching. A prolific author, he has written or co-written upwards of 150 scientific papers and five books. One of his most popular books is Managing for the Long Run: Lessons in Competitive Advantage from Great Family Businesses (2005), co-authored with Isabelle Le Breton-Miller, which has been translated into six languages.
Miller has won many other awards and distinctions, including several Best Paper Awards from the Academy of Management and the Wiley Award from the SMS. In 2000, the Academy inducted him into its Hall of Fame and in 2012 elected him as a Fellow. Within the SMS, Miller has served on the Strategic Management Journal editorial review board over the past 20 years.