Danny Miller honored by the Academy of Management for his world-class research
August 13, 2015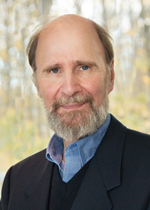 HEC Montréal Senior Researcher Danny Miller, a renowned scholar in the field of management whose research focuses on strategy as well as family business, received the 2015 Distinguished Scholarly Contributions to Management Award from the Academy of Management at its recent Annual Meeting in Vancouver. The Academy is the oldest and largest scholarly management association in the world, with some 20,000 members from 109 countries.
The award recognizes a scholar who has made significant contributions to management over the course of a career. Only one such award is given per year. Miller's research has been cited in scholarly works more than 45,000 times and his impact on management practice is similarly far-reaching.
A prolific author, he has written or co-written upwards of 150 scientific papers and 5 books. One of his most popular books is Managing for the Long Run: Lessons in Competitive Advantage from Great Family Businesses (2005), co-authored with Isabelle Le Breton-Miller, which has been translated into six languages.
"This is a richly deserved tribute to Danny's extraordinary scholarship and professional service," says HEC Montréal Director Michel Patry. "Prior recipients of this extremely competitive prize include Nobel Prize winners Oliver E. Williamson and Herbert Simon, as well as Henry Mintzberg. As distinguished a group as this is, it is now even more eminent with Danny's inclusion."
HEC Montréal is one of only two Canadian business schools to have one of its researchers receive this award, reaffirming its position as one of the world's top research universities in the field of business education.
Miller joined HEC Montréal in 1981 and is currently a Senior Researcher and Director of the Research Center for Business Families. In addition to earning an MBA in Organization Theory from the University of Toronto, he holds a PhD in Management Policy from McGill University. He has won many awards and distinctions, including several Best Paper Awards from the Academy of Management. In 2000, the Academy inducted him into its Hall of Fame and in 2012 elected him as a Fellow.