Outstanding performance from students of MSc at the International Graduate Competition
May 1, 2015
The team of HEC Montréal distinguished itself at the fourth edition of the International Graduate Competition, held from April 25-30. Consisting of four students from the MSc program—Mathieu Antoine, Alexandra Ciuria, Valérie Grenier-Paquette and Marc-Antoine Hébert—the delegation from HEC Montréal won first place in the "Best Written Report" category and second place in the overall ranking, just behind the delegation from University of Florida.
Founded at HEC Montréal, the International Graduate Competition is an interrelated cases competition open to graduate students. This year's edition welcomed eight teams of students from around the world.
Congratulations to the team members and their trainers: Professors Franck Barès, Sacha Ghadiri, Brian King and Jacques Lemay!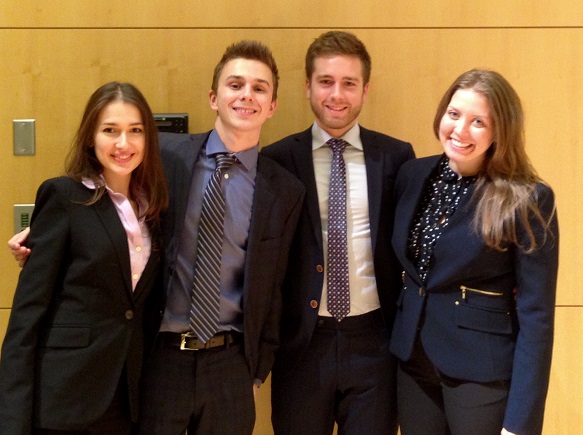 Alexandra Ciuria, Marc-Antoine Hébert, Mathieu Antoine and Valérie Grenier-Paquette.