George Dionne's Handbook of Insurance: an international reference in the field
January 20, 2014
Professor Georges Dionne (Finance) has just published the second edition of Handbook of Insurance, a reference book on insurance and risk management. The first edition won the 2002 Kulp-Wright Award from the American Risk and Insurance Association (ARIA).
The book, with over 1,000 pages, contains 37 summary articles written by 60 leading international experts in the field of risk and insurance. This second edition includes 15 new chapters covering recent developments in risk management, including risk securitization, the precautionary principle, corporate governance of insurance companies, systemic risk, alternative risk-transfer devices, longevity risk, the regulation of insurance companies and more. It is sure to become an essential source of information on research developments over the past 40 years, especially for readers looking for recent research findings.
The preface, by Denis Kessler, Chairman and CEO of SCOR, the world's fifth-largest re-insurer, is very eloquent: "What a pleasure it is to discover the second edition of the Handbook of Insurance, twelve years after the first! Many key concepts at the core of risk, uncertainty and insurance economics have been further refined, reassessed, and reanalyzed. I have a simple wish: that this handbook be diffused to as wide an audience as possible, both in academic and professional spheres."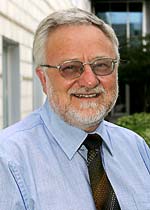 Professor Dionne, holder of the Canada Research Chair in Risk Management, is ranked as one of the world's top 25 researchers in risk management, according to the IDEAS site. He is a member of the Board of Directors of HEC Montréal, President of the European Group of Risk and Insurance Economists (EGRIE) and Past President of the Canadian Economics Association.
Handbook of Insurance, by George Dionne, 2nd edition, Springer New York, 2013, 1,126 pages. Available on the publisher's site.