Tolga Cenesizoglu and Badye Omar Essid receive an award from the Journal of Financial Research
April 16, 2013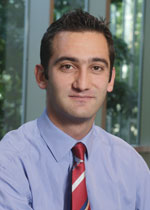 The Journal of Financial Research (JFR) has saluted the exceptional work of Professor Tolga Cenesizoglu (Finance) and Badye Omar Essid (PhD 2010) with an Outstanding Article Award for their article entitled "The Effect of Monetary Policy on Credit Spreads." The award comes with a $2,000 prize.
In this article, the authors analyze the effect of monetary policy on yield spreads between corporate bonds with different credit ratings over the business cycle. Using futures contracts to distinguish between expected and unexpected changes in the Fed funds target rate and several indicators to distinguish between different phases of the business cycle, they found that yield spreads between bond indices with low and high ratings widen (narrow) following an unexpected increase (decrease) in the Fed funds target rate in line with the predictions of imperfect capital market theories.
About the Journal of Financial Research
The JFR, founded in 1978, is published by the Wiley Online Library, which offers access to over 11,500 publications and hundreds of databases and reference works. The JFR is sponsored by the Southern Finance Association (SFA) and the Southwestern Finance Association (SWFA), two US organizations recognized worldwide in the field of finance.