The international office – Europe (BIE), a bold initiative

As former HEC Montréal Directors, Jean-Marie Toulouse and Michel Patry were part of key steps in its development. To mark the 20th anniversary of the BIE, we interviewed these two figures who contributed to raising the School's profile as a French-language institution on the world stage and particularly in Europe.
HEC Montréal is the only Canadian university to have had a European office for 20 years now.
Jean-Marie Toulouse, Professor Emeritus, Department of Management, 1st Director of Research (1975-1979) and former HEC Montréal Director (1995-2006)
Michel Patry, President and CEO of the HEC Montréal Foundation, Professor Emeritus, Department of Applied Economics and former HEC Montréal Director (2006-2019)
What led to the establishment of a HEC Montréal office outside of Quebec, in Paris as it happens, in 2002? What was the background?
M. P. In 2002, the School was at a turning point in its history. It was the actually the vision, daring and leadership of Jean-Marie, HEC Montréal Director at the time, that made this more rapid development of our international presence possible.
The time had come to define ourselves as one of the world's leading management schools, although we have always trained leaders who work to develop business relationships between Quebec and the rest of the world.
Back then, we were taking the first steps toward obtaining international accreditations and introducing our trilingual bachelor's degree in French, English and Spanish. Establishing the BIE, our international office in Europe, was an integral part of the School's internationalization strategy. At the time it was hard to imagine the important role this office would play, especially since we had very few students from France and elsewhere in Europe enrolled in our programs.
The main goal was to recruit future students, primarily from France. We very soon realized that the BIE would become the School's branch in Europe for students and alumni, and also sometimes for faculty and research teams.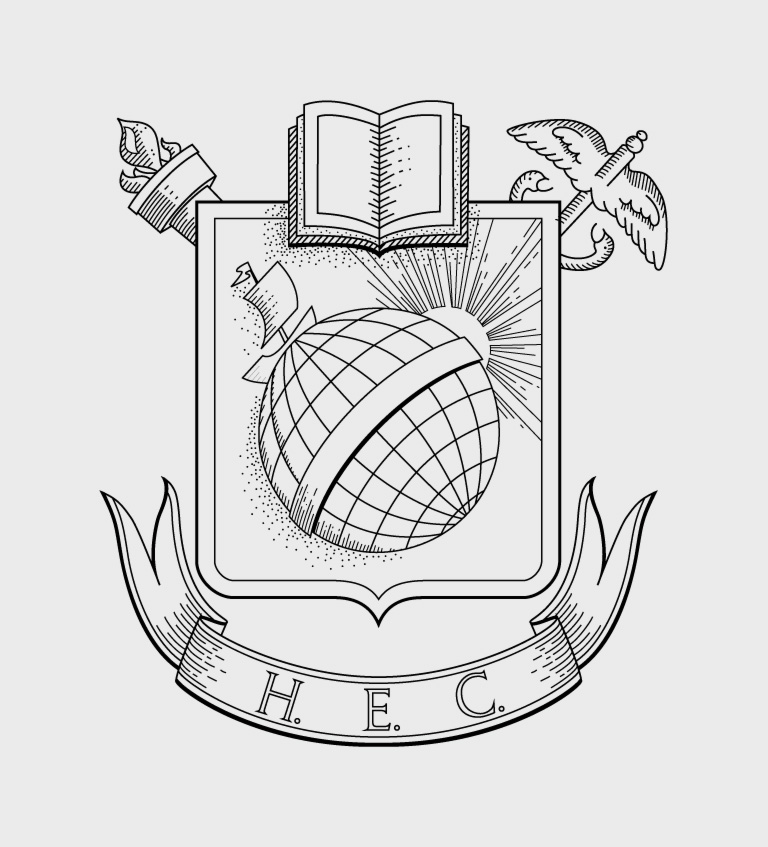 The three themes on the banner of the School's coat of arms – trade, industry and shipping – were the initial focus of its programs.
How did the missions of the International Office – Europe evolve?
M. P. and J.-M. T. After a few years, 2 things happened. First of all, there were naturally more HEC Montréal alumni. So there was a need to offer activities and benefits for this community. The BIE became a meeting place for them.
Next, we created a program of internships, mainly in France, by developing partnerships with different firms. The BIE's mission expanded, while keeping the focus on promoting our programs and student recruitment.
Today there are some 10,000 HEC Montréal graduates in Europe. Can you give us a brief portrait of this alumni community?
M. P. and J.-M. T. French alumni are the core of this community, but it now extends to almost all Western European countries. In addition, many of our young alumni choose to start their careers in Quebec or elsewhere in North America, and many settle down there.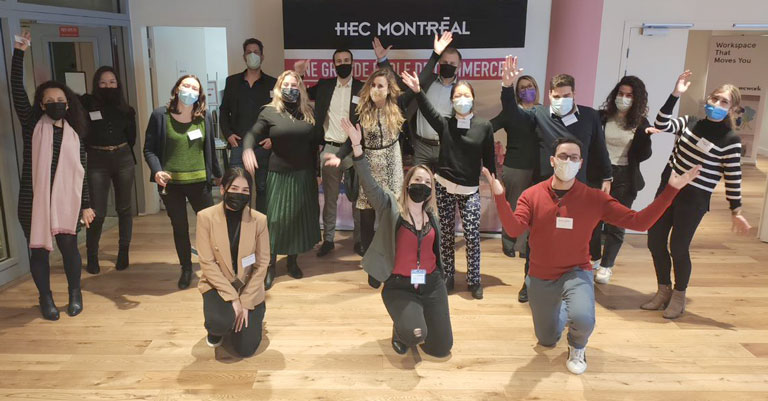 On December 7, 2021, for the first time, a two-way hybrid-format discussion was held between next-generation alumni in Montréal and Paris on the topic of lasting inspirations.
How was the School's internationalization strategy developed, especially in Europe?
M. P. and J.-M. T. The School's internationalization strategy revolved around student mobility, the development of multilingual courses, and attracting students and professors-researchers from around the world. It has worked so well that in the space of 20 years, the number of students and faculty members from Europe has just exploded.
In addition, the School has preferred to build international partnerships rather than set up decentralized campuses. It now has Canada's most extensive international exchange program and a variety of dual-degree programs with a large number of prestigious universities and schools, many of them in Europe.
HEC Montréal has also worked on developing other international experiences, including internships and its Campus Abroad program.
The School's teaching and research programs in business are now known worldwide. What would you say about the advances made over the past 20 years?
M. P. When I joined the School as a professor in the early 1980s, it had a strong reputation in Quebec, but was almost invisible outside of Canada. Its internationalization efforts are obviously a long-term strategy, but HEC Montréal has earned an excellent reputation as one of the world's top business schools.
We owe this to its faculty, staff and alumni. The School's accreditations and its success in international rankings are glowing proof.
To conclude, do you have an anecdote you'd like to share with the HEC Montréal community?
M. P.What really struck me when promoting the School in France, and even once students had arrived in Montréal, was the importance of good communication with their parents. There are two reasons.
First of all, we're talking about international studies. Parents are sending their children to study far from home. But it's also a cultural issue. At shows or when I interviewed candidates with their parents, I could see how the parents were really involved in the conversation, and how they would speak for their children. In general, in Quebec and elsewhere in North America, students speak for themselves during recruitment talks.
We had to adapt to find a way to talk with parents. For example, we organized a welcome activity just for them. Lots of parents came here, and still do, to help their children get settled.
THE BIE, WHICH REPRESENTS THE SCHOOL IN WESTERN EUROPE, TODAY IS RESPONSIBLE FOR:
Promoting all the School's programs and recruiting future students

Helping alumni and students find internships and jobs in Europe

Organizing activities for the some 10,000 alumni based in Europe

Developing and maintaining long-lasting relationships with more than 80 academic partners
The School has dual-degree programs with 6 prestigious universities and schools in Europe, and collaborates with other academic and government stakeholders and with many firms.
SOME BENEFITS OF HAVING AN OFFICE IN EUROPE:
In-depth knowledge of local markets and attitudes

Creating and maintaining trusting and reassuring relationships with different partners, the student community and alumni

Visibility and credibility for companies that hire our students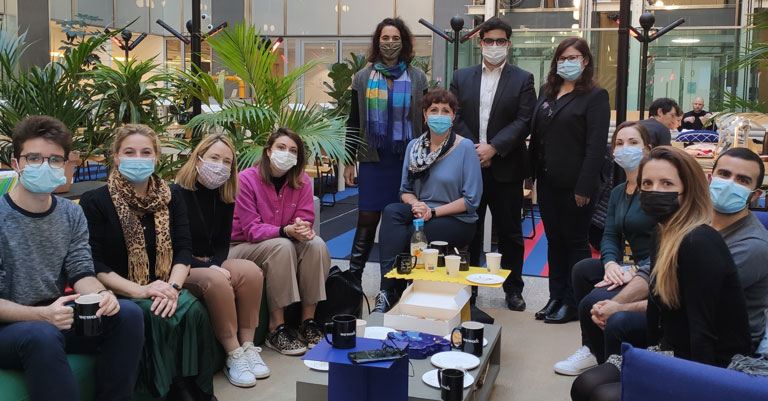 Alumni breakfast in November 2021, in the BIE office, attended by the BIE team and Marie-Hélène Jobin, Director, International Relations and Partnerships
---
Contact us