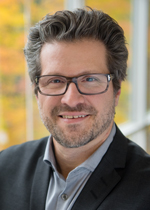 Contact information
HEC Montréal
3000, chemin de la Côte-Sainte-Catherine
Montréal (Québec)
Canada H3T 2A7
Email:
Phone:
Secretary:
Fax:
514 340-5635
Office:
5.123
Education
M. Sc. (économie et management), UQTR
Ph. D. (gestion), University of Western Ontario
This award and honor selection covers the last five years.
HÉBERT, Louis
Prix Roger-Charbonneau 2015, Prix qui récompense la production d'un livre rédigé dans une langue autre que le français ou d'un livre n'étant pas expressément destiné à servir dans un cours, HEC Montréal, 2015
This selection of supervision activities covers the last five years.