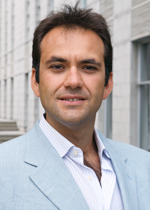 Contact information
HEC Montréal
3000, chemin de la Côte-Sainte-Catherine
Montréal (Québec)
Canada H3T 2A7
Email:
Phone:
Secretary:
Fax:
514-340-6469
Office:
4.131
Personal page
Education
Ph.D. (Economics), European University Institute
Master of Advanced Studies in Economics, Universitat Pompeu Fabra
Master (Economics and Finance), University of Naples Federico II
Expertise
Political Economy
Procurement
Labor
Current research
Forthcoming
This publication selection covers the last five years.
This award and honor selection covers the last five years.
COVIELLO, Decio
Prix de recherche Nouveau chercheur 2014, Ce prix souligne l'excellence en ce qui a trait aux publications scientifiques et professionnelles d'un professeur adjoint ou d'un professeur invité avec perspective de carrière de HEC Montréal, au cours des trois dernières années., HEC Montréal, 2014
This selection of supervision activities covers the last five years.
+
Supervised project supervision – MSc in Management (3)
The impact of a new feedback system on engagement: evidence from a randomized experiment at the National Bank of Canada , by Manal Sajia
March 2020
The impact of social corporate responsibility (CSR) on company value: Re-assessment of the causal evidence , by Angela Patricia Herrera Gomez
September 2019
Evidence of collusion in Laval asphalt projects , by Alexandre Garon-Bélanger
May 2019
Fall 2020
MATH 80816A
Applied Econometrics and Machine Learning in Economics
Winter 2020
MATH 80816
Économétrie appliquée
Fall 2019
MATH 80816A
Applied Econometrics
Winter 2019
6-001-14A
Comparative Perspectives on Business Organisations
Fall 2018
80-816-17A
Applied Econometrics