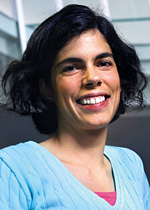 Contact information
HEC Montréal
3000, chemin de la Côte-Sainte-Catherine
Montréal (Québec)
Canada H3T 2A7
Email:
Phone:
Secretary:
Fax:
514 340-6132
Office:
4.375
Education
Ph. D. (Management), Queen's University
M. Sc. (Management), University of Lethbridge
Graduate degree (ingénierie en informatique), Universidad de Deusto
Expertise
Emotional and cognitive processes during interactions with information systems
Organizational and individual level perceptions of information systems
Quantitative methods and their application in Information systems research
TITAH, Ryad, ORTIZ DE GUINEA LOPEZ DE ARANA, Ana;
« Strategic Use of IT »
, Wiley Encyclopedia of Management. Volume 7. Management Information Systems, John Wiley and Sons, 2015, p. 1-5.
This award and honor selection covers the last five years.
ORTIZ DE GUINEA LOPEZ DE ARANA, Ana
Prix de recherche Chenelière Éducation/Gaëtan Morin 2016, Ce prix souligne l'excellence en ce qui a trait aux publications scientifiques et professionnelles d'un professeur agrégé de HEC Montréal, au cours des trois dernières années., HEC Montréal, 2016
This selection of supervision activities covers the last five years.
+
Supervised project supervision – MSc in Management (2)
In codirection with : TAMS, Stefan
Évaluation et test du portail client chez Pratt & Whithey Canada , by Ali Douhayni
September 2018
In codirection with : TITAH, Ryad
Transmission en ligne des pièces justificatives à l'admission universitaire , by David R. Vachon
March 2017