The Chilean government finances a start-up launched by four HEC Montréal graduates
Thursday October 3, 2013

Montréal, Québec, October 3rd, 2013 – A team of four HEC Montréal MBA graduates will be part of the next cohort of Start-up Chile, a program created by the Chilean government to attract young entrepreneurs.
The program, launched in 2010, is intended to help young entrepreneurs create businesses in Chile and position the country as a laboratory for innovation and entrepreneurship in Latin America. This year, only 85 of the 1,386 projects submitted were selected by the jury.
"We just graduated and already we're global entrepreneurs!", exults young HEC Montréal grad Jean-Michel Beaudoin, speaking for the four team members. "Our MBA training gave us the tools and confidence we needed to take on this kind of international project."
The four graduates will receive a US$40,000 grant to launch their company, called MissingLINK. They will head to Chile in November for seven months, during which time they will receive assistance to help them get their new business up and running. They will also give talks and attend various events.
It all started in February 2013, at the second edition of Startup Weekend Montréal, held at HEC Montréal. The four students had 54 hours to create a business project, and came up with the idea of MissingLINK, a university relations management solution.
More specifically, their company is designed to strengthen ties among students, alumni, researchers, the administration and recruiters, so as to promote opportunities for collaboration. MissingLINK does this by offering a social media platform to connect people according to their specific needs and interests, and so help them reach their goals. For instance, students and alumni can network, recruiters can identify promising candidates, and student associations can find support, mentoring and sources of funding.
"MissingLINK is intended to serve the university community by helping members contact other people who can help them reach their objectives," emphasizes Jean-Michel Beaudoin. "MissingLINK will be a dynamic platform, where people can openly look for help via the most powerful network at their disposal, their alma mater."
The Start-up Chile selection process
Experts from Silicon Valley (entrepreneurs, academics and investors) and the Entrepreneurship Subcommittee of InnovaChile selected the 85 projects on the basis of:
team members' skills, qualifications, experience and commitment; their tangible achievements and previous business start-ups; their networks and contacts;
the strategy, originality and innovative nature of the project; related investors and mentors; global impact and competitive advantages of the project;
the target market, size of the market and competition;
the global scalability of the project (essential).
-30-
About HEC Montréal
HEC Montréal is a university institution with over 12,000 students enrolled in its many management programs, from the undergraduate to postgraduate level, and also trains more than 7,000 executives and managers every year. It is one of the most active Canadian business schools in research, thanks to some fifty research units, with 25 chairs including 7 Canada Research Chairs. HEC Montréal is a Francophone institution, with 280 professors, that offers a number of programs in more than one language. Since its founding in 1907, the School has trained more than 71,000 students in a wide variety of management fields.
For further information, contact:
Julie Lajoye
Media Relations Advisor
HEC Montréal
514 340-7320
julie.lajoye@hec.ca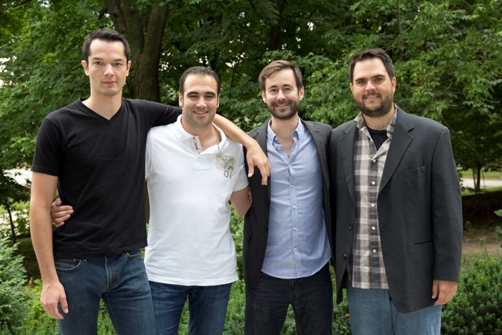 Left to right: Simon Turcotte, Lauris Bonnet, Jean-Michel Beaudoin and Daniel Tardif.