The HEC Montréal team a winner once again in the Relève marketing competition
May 12, 2022
A team of HEC Montréal Bachelor's in Business Administration (BBA) students triumphed in the Marketing section of the 2022 Relève competition hosted by the Association of Creative Communications Agencies (A2C).
This is the 2nd straight year that one of the School's teams has won this student competition. The members of the 2022 winning "Aspire" team are:
Olivia Battista
Méganne Bériault
Klara Brassard
Audreyane Girard
Alix Lamotte
Catherine Ouimet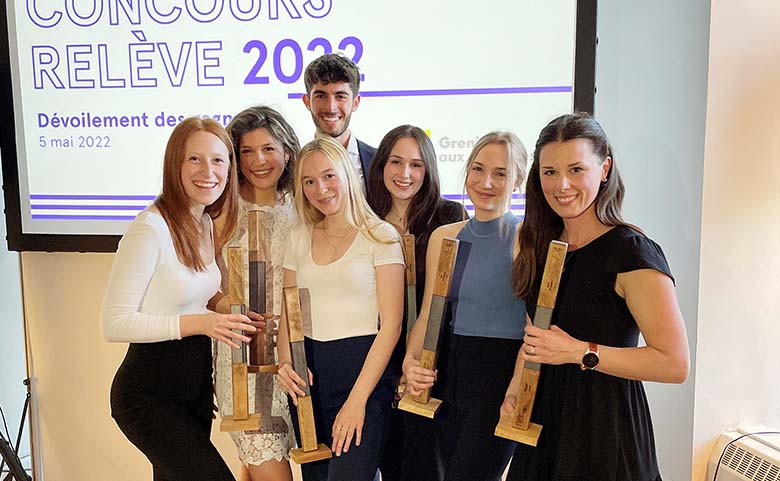 (1st row from left to right) Mégane Bériault, Audreyane Girard, Klara Brassard, Olivia Battista, Catherine Ouimet and Marie-Élyse Forget. (2nd row) Alix Lamotte.
The Relève competition is held over a 4-month period and consists of 2 challenges, one in marketing and the other in communication. In the Marketing section, teams had to carry out a consulting mandate for Bombardier. Despite the highly complex case, our students were able to sell the jury on their solution, with the help of Lecturer Marie-Elyse Forget, an HEC Montréal graduate, throughout the process.
The final round in the competition was held on April 22, when the teams made their presentations to a jury of industry professionals. The winning teams were announced a few days later, on May 5.
This year's edition brought together 8 teams from 6 Quebec universities.
The University Competitions Department wishes to thank the Association des diplômés de HEC Montréal for its financial support.