BBA students raise over $92,000 for Équiterre
October 11, 2019
Our Bachelor's in Business Administration (BBA) students were proud to present a $92,226.93 cheque to Équiterre, on Thursday, October 10, the result of a fundraising campaign by the Association des étudiants de HEC Montréal (AEHEC) and its CSL Élysium committee during the 2019 Humanitarian Weeks.
Humanitarian Weeks activities involve mainly for first-year students in the BBA program. Over 10 days, 18 teams of student volunteers competed to raise as much as possible, by either appealing directly to the public and friends and relatives, or selling clothing and food items.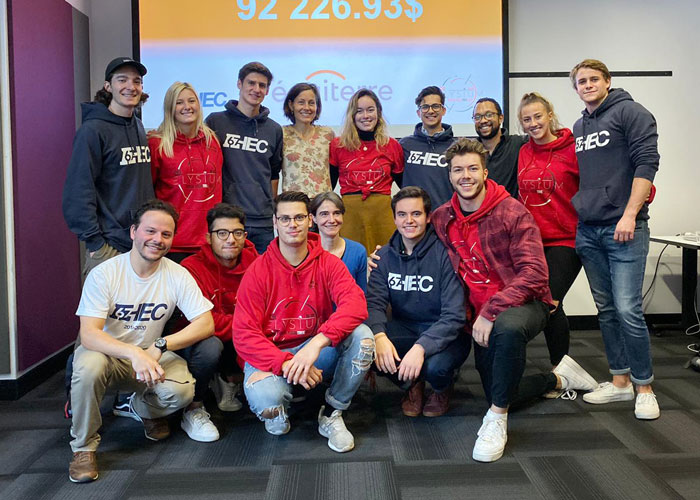 The managers of Équiterre, Colleen Thorpe, Clara Bonnes and Olivier Lachance surrounded by members of the executive of AEHEC and CSL Elysium

.
AEHEC's decision to support Équiterre, an environmental organization, in its 2019 campaign is a change after four years of collecting funds for the Fondation du Centre de cancérologie Charles-Bruneau. Between 2015 and 2018, the AEHEC managed to raise over $300,000 to support research into pediatric cancer.
This year the association decided to change its focus, to reflect students' growing environmental awareness.
"As students, we can't afford to ignore climate change issues any longer. We want to make a switch and support this cause, a particularly important one for our generation. The Climate March on September 27, which drew 500,000 people, shows that the whole Montréal community is concerned," explains Florent Roquette, AEHEC Vice-President of Communications.
Équiterre is a non-profit organization that offers concrete solutions to accelerate the transition towards a society in which individuals, organizations and governments make ecological choices that are both healthy and equitable. With the help of citizens, organizations and governments, it develops projects in agriculture, transportation, fair trade, sustainable energy, responsible consumption and climate change.