A winning paper by Michel Tremblay and Kevin Hill
September 6, 2019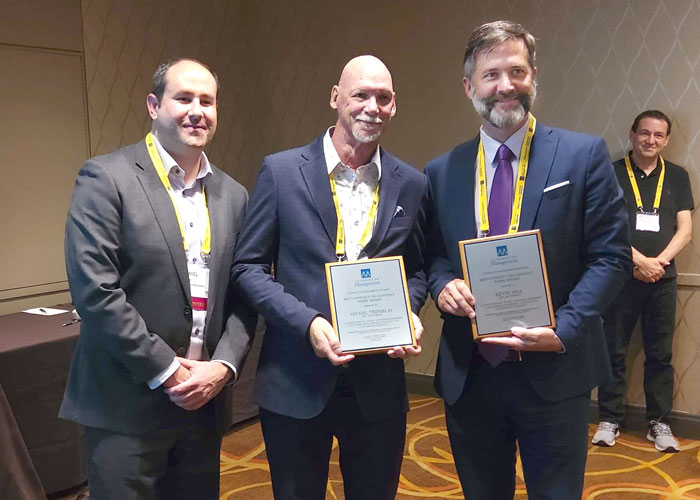 Michel Tremblay (centre) and Kevin Hill (right), at the award ceremony.
Two professors in the HEC Montréal Department of Human Resources Management won an award for the quality of their scientific paper at the 70th Academy of Management (AOM) Annual Meeting, held in Boston in August.
Michel Tremblay and Kevin Hill received the Conflict in Context Award from the Conflict Management Division of the AOM for their study entitled A Longitudinal Study of Power Dispersion and Upper Management Conflict on Intragroup Conflict.
"Our paper helps to clarify the different ways in which power can be shared among members of a work team, and the effects of this dispersion. And our results somewhat contradict the more traditional models of positive hierarchies, which favour an unequal distribution of power. We show that greater sharing of power in a team will contribute more to its smooth functioning than the opposite," summarize the co-authors.
About the authors
Kevin Hill is an Associate Professor in the HEC Montréal Department of Human Resources Management. He holds a PhD in Organizational Behaviour and Human Resources Management from the Rotman School of Management.
His fields of interest are mainly negotiation and collaboration and conflict management.
Michel Tremblay is a Full Professor in the Department of Human Resources Management. He also holds the Chair in Mobilization of Groups, Individuals and Organizations. He holds a PhD in Administration from the Institut d'Administration des Entreprises in Aix-Marseille, France.
Professor Tremblay specializes in all fields of strategic human resources management and the mobilization of employees in service and retail businesses.
More details about the winning paper
This study examined the consequences of changes in four power configurations among team members on intragroup conflict dynamics over time.
The study of 3,343 respondents within 174 stores, sampled over a 9-year period comprising 6 measurement occasions, showed that the prevalence of unequal power dispersion was associated with higher levels of intragroup conflict. However, marked increases in power dispersion were associated with fewer intragroup conflicts than a bimodal distribution. Moreover, increases in managers' perceptions of task conflict within the upper-management team predicted increased task conflict among supervised employees over time.