The Marcel Dagenais Award presented to Pierre-Carl Michaud
For his contribution to economic scientific life in French
May 24, 2018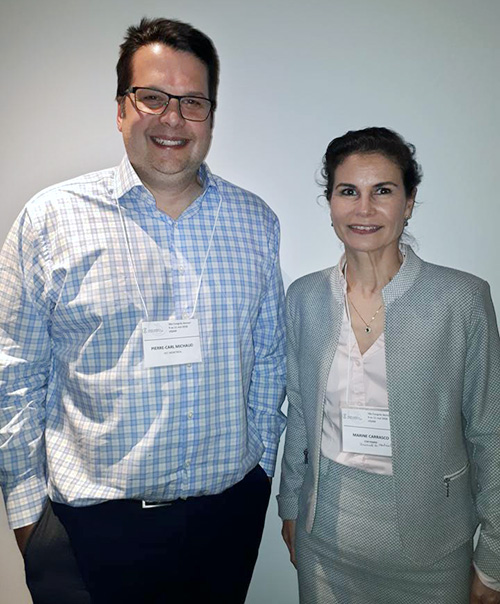 Co-winners of the 2018 Marcel Dagenais Award, Pierre-Carl Michaud and Marine Carrasco.
Pierre-Carl Michaud, a Full Professor in the Department of Applied Economics, was honoured with the Marcel Dagenais Award on May 10 at the 58th annual congress of the Société canadienne de science économique (SCSE).
He and Marine Carrasco, a Full Professor in the Department of Economics at the Université de Montréal, shared this distinction.
The award recognizes the remarkable contribution of a researcher to economic scientific life in French in Quebec or Canada as a whole, and comes with a cash prize of $6,000 and an SCSE medal. It is awarded every three years by a jury, which studies the candidates' scientific output over the previous six years.
"Publishing in the field of economics is not easy, so this is welcome recognition. It's a pleasure to see that our work is appreciated," said Professor Michaud.
In recent years, he has made a name for himself with his research combining micro-simulation and economic behaviour models. One of his papers, published in 2017 in the Journal of Political Economy, on the topic of financial literacy and wealth inequality, received wide international attention.
Professor Michaud is the second HEC Montréal professor to be accorded this honour, after Georges Dionne in 2012. Professor Dionne had in fact already won the award once before, in 1991, when he was a Professor at the Université de Montréal.
About Pierre-Carl Michaud
Professor Michaud holds the Industrial Alliance Research Chair on the Economics of Demographic Change. He also directs the HEC Montréal Retirement and Savings Institute and is a Research Associate with the National Bureau of Economic Research (NBER). His research focuses on understanding certain behaviours over subjects' lifetimes, including those relating to savings, insurance and pension plans, along with investments in health care and the economic impact of demographic change. He has received funding from many different organizations and his findings have been published in leading economic, demographics and public health journals.