Our students shine in France, with an innovative social project: a mobile pediatric clinic
Tied for 1st place in the Tocqueville Challenge
June 19, 2018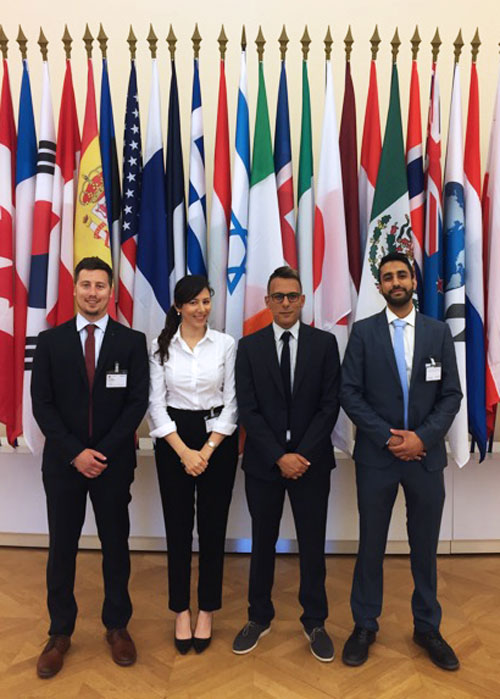 A team of MBA students from HEC Montréal tied for top honours in the Tocqueville Challenge, a competition aimed at fostering community engagement, building citizen solidarity and promoting social responsibility and innovation. The world finals were held on June 4, in Paris.
The team of Rislaine Benkelfat, Nathan Dahbi, Jean-Philippe Couture and Mustapha Makhdoom tied for first place with the team from the École supérieure d'électricité (Supélec) de Paris.
The jury was delighted with our winning team's project: Ma MobiClinique, a mobile pediatric clinic actually installed in a bus and intended to offer medical care for children in Montréal's most disadvantaged neighbourhoods. The MobiClinique is an innovative alternative to drop-in pediatric clinics, and includes a web application that parents can easily use to sign up a day ahead.
The project has the backing of several partners, including the Montreal Children's Hospital and its Director of general pediatrics, Dr. Geoffrey Dougherty. A number of other community partners are also involved. The winners of the Tocqueville Challenge are confident that their proposal will become a reality by fall 2019.
"I believe that our advantage lay in the fact that we had a realistic and achievable project," says Nathan. "We come from four different fields (pediatrics, actuarial science, engineering and entrepreneurship and innovation). That's our strength. Everyone got involved in this project for personal reasons, but we all wanted mostly to give back to society."
The winners will share a €10,000 prize (slightly more than CA$15,000), which can be invested directly in carrying out their project.
This was the first year that that teams from elsewhere in the world took part in this French competition. Four teams met in the world finals, including two from HEC Montréal.
Our second team in the finals consisted of Amine Abdessemed and Laetitia Angba, students in the Specialized Graduate Diploma (DESS) program. Their project, SPECTRUM, is designed to help the Parc-Extension Youth Organization (PEYO) to define and personalize the measurement of impacts related to its mission, and to help gather and automate data through an application or web platform.
Note that the IDEOS hub selected and sponsored the HEC Montréal teams, thanks to funding from the Mouvement des Caisses Desjardins.