Minister Patty Hajdu visits HEC Montréal for a public forum
March 27, 2018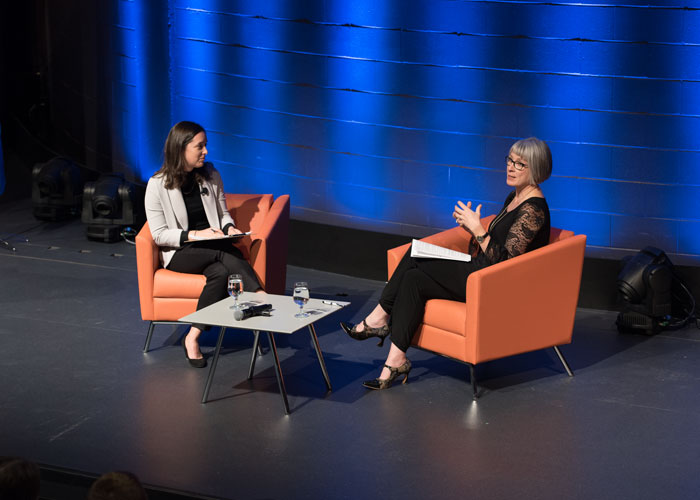 The Minister of Employment, Workforce Development and Labour, the Honourable Patricia A. Hajdu, visited HEC Montréal on March 26 for a discussion with the HEC Montréal community and the public on a variety of subjects, including jobs of the future.
This theme is also the focus of the G7 ministerial meeting being hosted by Minister Hajdu and Navdeep Singh Bains, Minister of Innovation, Science and Economic Development, in Montréal on March 27 and 28.
This meeting with the Minister at HEC Montréal, an initiative of the National Bank | HEC Montréal Entrepreneurship Institute, took the form of a conversation moderated by Catherine Beaucage, an advisor with the Deschênes – Molson – Lesage Family Business Centre of the HEC Montréal Entrepreneurship Hub.
Members of the public who attended the meeting at the National Bank Amphitheatre were also free to ask questions.
Part of the discussion was devoted to recent innovations, in particular technological ones, and their impact on the labour market and jobs of the future. Minister Hajdu presented her vision of how we can better respond as a society to these changes, and turn them into opportunities for success.
She also spoke about the challenges facing future workers—including students—and women, entrepreneurs and newcomers, and ways of eliminating obstacles for them.
In concluding the forum, HEC Montréal Director Michel Patry pointed out the important role played by students during this time of change. He also emphasized the crucial role of universities and an institution such as HEC Montréal as a vector of innovation for Canada.