International research initiative on the future of work
CRIMT receives a $2.5 million grant
February 26, 2018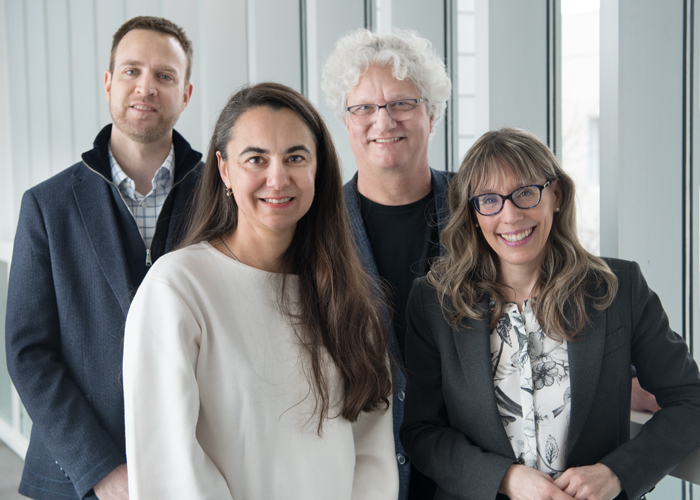 Marc-Antonin Hennebert, Urwana Coiquaud, Christian Lévesque and Lucie Morissette.
The Inter-University Research Centre on Globalization and Work (CRIMT) at HEC Montréal is one of the main partners in a major international research initiative on the future of work. It will receive $2.5 million in funding over 7 years from the Social Sciences and Humanities Research Council of Canada (SSHRC), under this year's competition.
The project, bringing together 18 advanced research centres and over 140 researchers from 12 countries, aims at developing a better understanding of experimental processes for creating better-quality work. The research teams will focus on understanding how companies, workers, unions, governments and other organizations adopt, mobilize and transform regulatory tools so as to improve work in individual, organizational and societal terms. The CRIMT partnership process is headed up by Christian Lévesque, of HEC Montréal, and Gregor Murray, of the Université de Montréal, respectively the Co-Director and Director of CRIMT.
The project will also create an international database and a virtual observatory for these experiments, combining advanced research and practical examples. HEC Montréal researchers Urwana Coiquaud, Marc-Antonin Hennebert, Christian Lévesque and Lucie Morissette will be contributing their specific expertise in organizational and institutional experimentation in the digital economy era, in reconfiguring regional ecosystems, new forms of collective action and redeploying public policies, union practices and business strategies in terms of employment and labour management.
Project co-director Professor Christian Lévesque notes that "people worldwide are wondering how to make changes to the institutions that govern work. These experiments will shape our future communities and economies. One key challenge is to combine our understanding of these processes and engage social players in shared learning."
HEC Montréal Director Michel Patry emphasizes the importance of this huge international research partnership. "Creating a network of international research centres opens up all kinds of possibilities for better understanding the challenges facing the different stakeholders in our societies. This will also make it possible to train a new generation of researchers able to draw on international best practices and stay on the cutting edge of knowledge in the areas of work and employment. We are very proud that CRIMT researchers from HEC Montréal will be contributing to this initiative."