2018 income tax clinic: 300 student volunteers complete nearly 1,100 tax returns
April 5, 2018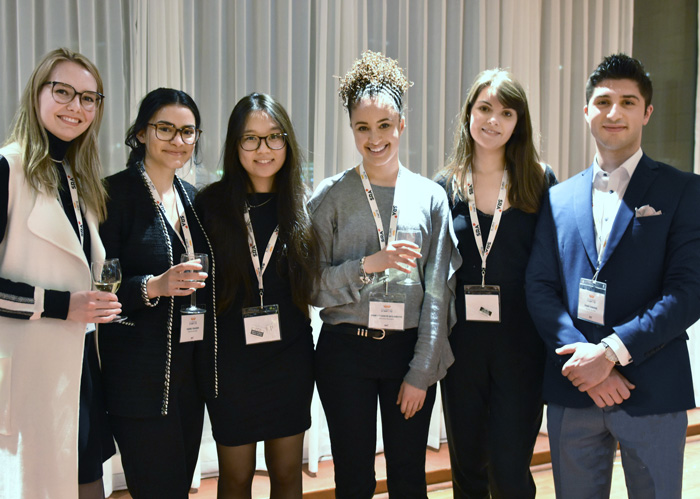 Project Managers for the 2018 HEC Montréal income tax clinic: Marianne Brodeur, Sherly Skaiem, Yong Zhi Michelle Li, Mabéty Conté-Desjardins, Pauline Garnung (Supervisor) and Rami Chahine.
Nearly 1,100 tax returns were completed at the 2018 HEC Montréal income tax clinic, held at the School from March 23 to 25.
About 300 student volunteers took part in the clinic, offering free assistance in filling out income tax returns for individuals with annual incomes of less than $25,000 and for families and couples with incomes under $30,000.
Just as in previous years, the clinic was organized by the Société de relations d'affaires (SRA) at HEC Montréal, with the support of the Canada Revenue Agency and Revenu Québec, through the Community Volunteer Income Tax Program.
The supervisor of this 32nd edition, Pauline Garnung, a student in the D.E.S.S. en comptabilité professionnelle – CPA program, explains that the income tax clinic is also an opportunity for students to "add some concrete experience to their skills and knowledge. It's a way for them to apply their classroom learning. The students take on a responsibility by offering an actual professional service".
For more complex cases, volunteers at the HEC Montréal income tax clinic could also count on the support of Full-time Lecturer André Chagnon, representatives from Thomson Reuters and tax experts from some of this year's partner firms: Richter, PwC, Deloitte, Demers Beaulne, EY, KPMG and Nexia Friedman.