HEC Montréal partners to create a new accelerator for AI startups
NEXT Canada and the School launch NextAI – Montréal
July 16, 2018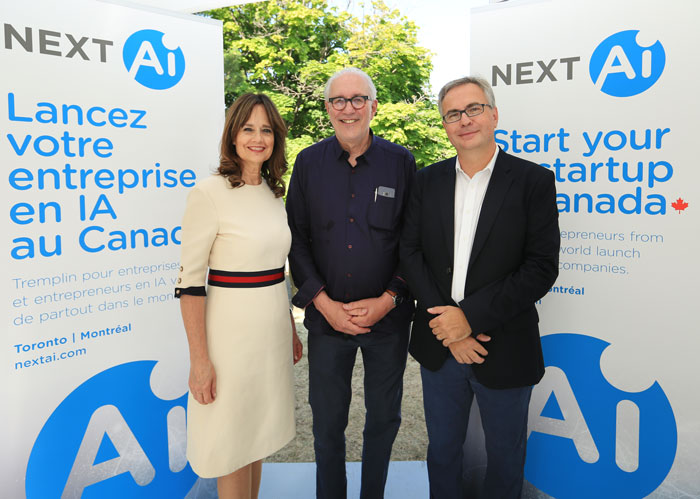 Hélène Desmarais, Sheldon Levy and Julien Billot.
Photo: Félix Lajeunesse-Guy

HEC Montréal and NEXT Canada, a national non-profit, have announced that they are joining forces for the Quebec launch of NextAI, a globally recognized accelerator program for artificial intelligence (AI) startups.
The announcement was made on July 13, at the Montréal StartupFest, by NEXT Canada CEO Sheldon Levy, Hélène Desmarais, Chair of the Board of Directors at HEC Montréal and Co-Chair of the supply chain supercluster initiative SCALE.AI, and Julien Billot, Program Director, NextAI – Montréal, Executive Education HEC Montréal and formerly President and CEO of Yellow Pages Limited.
"We are thrilled to kick off our first expansion outside of Ontario at Canada's largest annual technology and startup festival, here in Montréal," said Mr. Levy. "We are forging special relationships with HEC Montréal as well as with Hélène Desmarais and her colleagues at SCALE AI, who have built a consortium of incredible partners. We intend to make NextAI an integral part of Montréal's robust AI ecosystem."
Starting in February 2019 at HEC Montréal
The first Montréal NextAI cohort, consisting of some 50 founders, will be welcomed starting in February 2019. The program will be given at HEC Montréal and will draw on the specific expertise of Executive Education HEC Montréal, which has already run multiple AI programs to date.
"NextAI is different from traditional accelerator models because it provides high-potential founders with entrepreneurial training through exposure to leading experts in their fields," says Mr. Billot.
In his role as NextAI – Montréal's Program Director, Mr. Billot will be responsible for building a core team as well as a network of top faculty, scientists, researchers and successful entrepreneurs who can deliver the structured founder-development curriculum that is the backbone of all NEXT Canada programs.
While applications won't officially open until September 20, NextAI has awarded an advance spot in the Montréal cohort to the strongest team to have pitched their AI-enabled venture idea to the panel of judges at this year's StartupFest.
Developing Montréal's AI ecosystem
All ventures in NextAI will receive up to $200,000 in seed funding for their businesses, with the goal of launching some 20 new AI businesses within a few months.
The program will work with the whole Montréal AI ecosystem, including several universities and research laboratories in the city, including the Institute for Data Valorization (IVADO) and the Montréal Institute for Learning Algorithms (MILA). There will also be collaboration opportunities with NextAI in Toronto, which will run concurrently. The program there will be welcoming its third cohort in 2019. Universities elsewhere in Quebec and the rest of Canada and the world will also be involved.
NextAI typically attracts highly educated and sought-after global talent, with two-thirds of the founders possessing graduate level degrees and more than one-third of participants moving to Canada from abroad.