HEC Montréal invites the community to help power the heart of business
Special fundraising campaign for its downtown building
November 1, 2018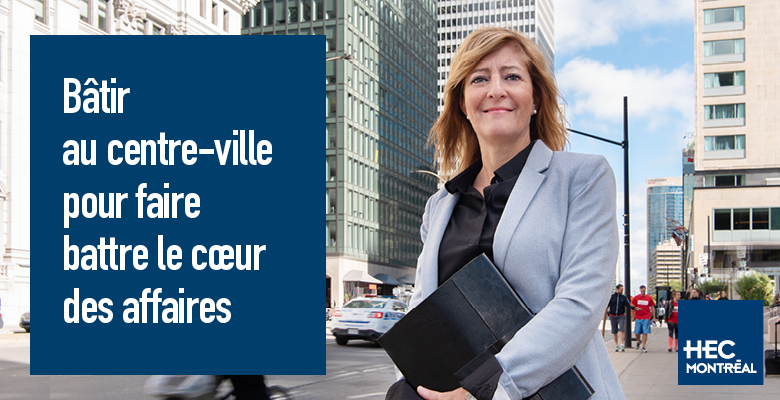 Official image of the Powering the heart of business campaign.
HEC Montréal is running a fundraising campaign to support the construction of its new downtown building, on the theme of Powering the heart of business. An innovative campaign strategy including a crowd-funding platform was launched on November 1.
The HEC Montréal community and the business community, alumni and everyone wishing to support this exciting initiative are urged to visit the coeurdesaffaires.hec.ca site. This first crowd-funding phase will continue until November 30, with the goal of raising $100,000.
In May 2018, the Quebec government gave HEC Montréal the green light to proceed with the construction of the new building. This project will mark a return to the School's birthplace, for it was in this very neighbourhood that it was founded in 1907, in the building on Viger Square that now houses the Centre d'archives de Montréal.
This expansion is aimed at bringing the School closer to the business community, in particular by giving downtown workers easier access to its programs. The new building will also help HEC Montréal foster exchanges with institutional partners and help businesses thrive. A centre for knowledge transfer and co-innovation bringing together several research and knowledge transfer units will be housed at the new address.
"Our downtown building is being designed to foster collaboration and dialogue by combining local entrepreneurs' energy with the knowledge derived from academic research. By coupling our strengths, we will be better positioned to play a leading role in today's far-reaching economic and social transformations," notes HEC Montréal Director Michel Patry.
The School's MBA and EMBA programs, some specialized graduate diplomas and certain certificates will be offered in its downtown premises. Its executive education (École des dirigeants) programs and those developed for professionals, executives and managers will also be moved there.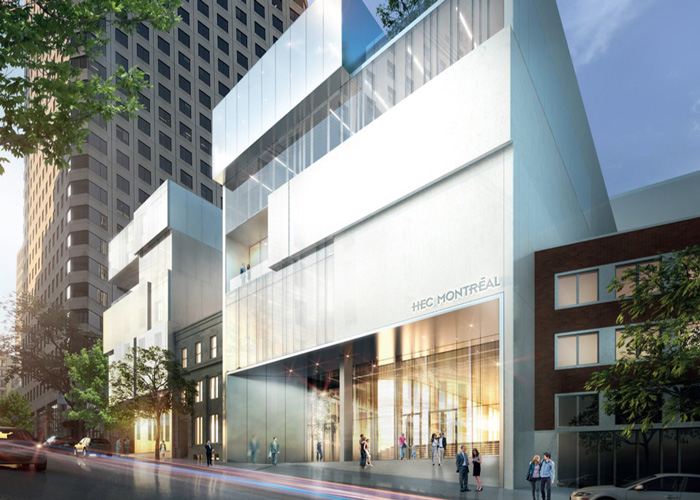 HEC Montréal plans to ensure that its new building respects and revitalizes the block where it is located. The architectural and landscaping choices aim to make the structure fit seamlessly into its surroundings, and include new trees and green spaces. The School is also seeking LEED Gold certification for the building. Lastly, note that the gardens, outdoor spaces and some indoor spaces will all be accessible to the community.