Ann Langley recognized by ACFAS for her contribution to the social sciences
2018 Thérèse-Gouin-Décarie Award
November 15, 2018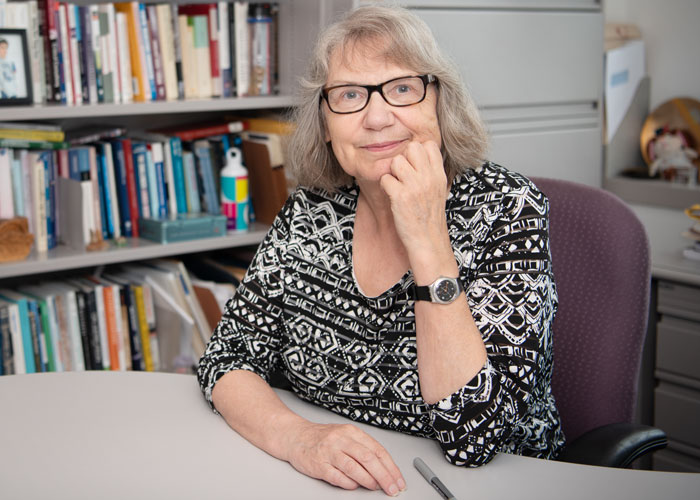 Full Professor Ann Langley
Full Professor Ann Langley was presented with the 2018 Thérèse-Gouin-Décarie award at the 74th Association francophone pour le savoir (ACFAS) gala. The ceremony was held on November 13 in the atrium of the Jacques-Parizeau building of the Caisse de dépôt et placement du Québec.
The award comes as recognition for Professor Langley's overall contribution as a professor and researcher in the field of management. It pays tribute to everything she has done to advance and share knowledge, as well as the originality of her work and its impact on research and our society's well-being.
« I am delighted that management research is being recognized by a social science award. This will help to promote HEC Montréal's contributions to cutting-edge research in this field of study so important to our society, », she said.
The Thérèse-Gouin-Décarie award is sponsored by the Centrale des syndicats du Québec and comes with a $5,000 cash prize.
The ACFAS awards have been handed out every year since 1944, to recognize exceptional contributions to research in all fields of knowledge. Nine of these awards salute career achievements, and three others go to young researchers who are pursuing their studies.
A Few Words about Ann Langley's Career
Ms. Langley has been a Full Professor in the Department of Management at HEC Montréal since 2000. Her research has been widely cited in the scientific literature, giving her a Google Scholar h index of 45. Her expertise is especially recognized in:
strategic processes in organizations
change and management processes in health care
management research methodology
Over the years, she has been honoured with many awards and distinctions.
2017 Elected a Fellow of the Academy of Management
2016 Honorary PhD, Aalto School of Business, Helsinki, Finland
2014 Pierre Laurin Research Award, HEC Montréal
2011 Honorary PhD, Norwegian School of Economics (NHH)
2010 Elected a Fellow of the Royal Society of Canada (Academy of Social Sciences)