Émilie Dufour Wins the Best Master's Thesis Award
May 30, 2017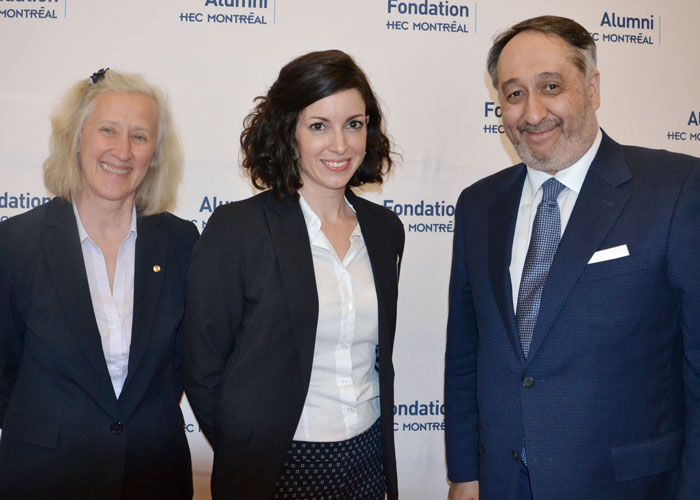 Congratulations to Émilie Dufour (Global Supply Chain Management specialization), winner of the 2016 award for the best Master's thesis. Her thesis, entitled Analyse et conception d'un réseau d'entrepôts d'aide humanitaire : le cas de l'Organisation des Nations Unies pour la réponse en Afrique de l'Est, greatly impressed the jury. Only the top theses were considered for the award.
Supervised by Professors Julie Paquette and Marie-Ève Rancourt, Émilie's thesis was written jointly with the United Nations Humanitarian Response Depot (UNHRD), a division of the World Food Programme that is responsible for pre-positioning emergency supplies. It analyzed the potential savings involved in creating a two-level storage network, i.e. by adding a regional pre-positioning level to the existing structure. Based on data from the field, her analysis considered the case of Kampala as a regional pre-positioning site to meet demand in East Africa.
The simulation of demand scenarios and mathematical modelling led to positive conclusions, suggesting potential savings on the order of 21.16% on average, and recommendations were presented to the UNHRD regarding the creation of the regional depot.
Immediate and substantial spinoff
Her findings were presented at UNHRD Head Office, in Rome, in July 2015. Based on her recommendations, the Kampala depot was opened that same year. Two other regional depots are now being set up, in Djibouti and Douala.
In addition to recognition for the project from international humanitarian authorities, it has received great visibility in the scientific community. An article on this subject, entitled "Logistics Service Network Design for Humanitarian Response in East Africa," was published in the Omega journal in January 2017, co-authored with Gilbert Laporte, Marie-Ève Rancourt and Julie Paquette. It also received the Practice Prize from the Canadian Operational Research Society (CORS).
The study has also been presented at a number of major events, including the annual conferences of the Production and Operations Management Society (Orlando, 2016), INFORMS (Nashville, 2016) and the Canadian Transportation Research Forum (Montréal, 2015). Professor Laporte has also reported on Émilie's findings at various foreign institutions, including Aarhus University (Denmark) and the Universidad de Sevilla (Spain).
Lastly, the quality of her research earned Émilie a position as a logistics consultant with the UNHRD, in Rome, in January 2016, where she helped to optimize inventory levels of key relief items through the worldwide network of depots. After five months, she was deployed to Nepal as emergency response preparedness project manager, where she developed a national natural disaster response strategy. In this position she supervised a team of 15 people and managed a $7 million budget.
Congratulations to Émilie on her success, and to the other finalists for the Best Master's Thesis award on their excellent work:
Finalists

Specializations

Supervisors

Karima Afif
Logistique internationale
Jacques Roy
Claudia Rebolledo
Cassandre Antenor-Habazac
Finance
Georges Dionne
Fannie Couture
Stratégie
Johanne Turbide
Jeanne Gagnon
Analytique d'affaires
Sylvain Perron
Steven Dufour (Polytechnique Montréal)
Anne Gauthier
Gestions en contexte d'innovation sociale

Yves-Marie Abraham
Martine Vézina

Jean-François Gauthier
Économie appliquée

Robert Clark
Decio Coviello

David Gutkovsky
Économie appliquée
Michel Normandin
Félix Maréchal
Développement organisationnel
Céline Bareil
Kevin Johnson
Marc Munschy
Ingénierie financière
Alexandre Jeanneret
Gabrielle Patry-Beaudoin
Marketing
Yannik St-James
Sara Perez-Lauzon
Ressources humaines
Marc-Antonin Hennebert
Alex Proulx
Économie appliquée
Federico Ravenna