A donation of over $5 million to support social entrepreneurs
Raymond Langlois makes an unprecedented bequest to the School
December 12, 2017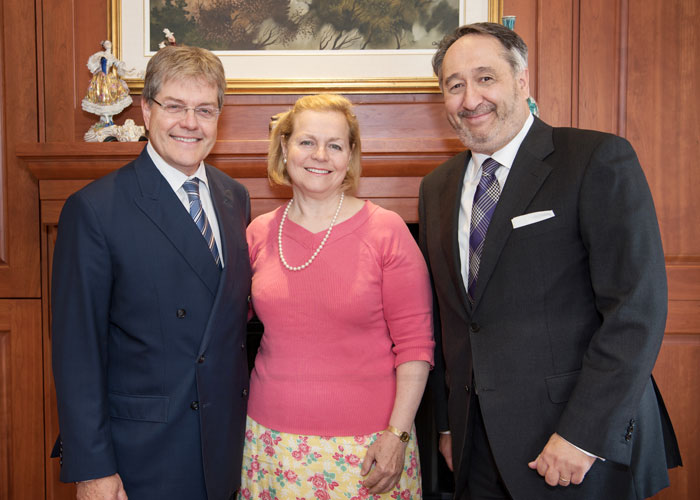 Raymond Langlois, Mary Célyne Traversy and Michel Patry.
HEC Montréal is proud to announce that alumnus Raymond Langlois, today Vice-President and Portfolio Manager with Groupe Langlois, RBC Wealth Management, RBC Dominion Securities, has made a bequest of $5 million to the School—the largest that HEC Montréal has ever received. Mr. Langlois has also pledged an outright gift of $250,000 over five years.
This donation will allow the School to create a program to support the viability and growth of social enterprises. In this way, Mr. Langlois hopes to support entrepreneurs who see economic efficiency as a way of serving the public interest. "The people who run these businesses make their companies' survival and profitability a tool for social development and a way of improving their communities' standard of living," he says.
Raymond Langlois earned his Bachelor's in Business Administration (BBA) from HEC Montréal in 1975, specializing in Professional Accounting. He has spent his entire career in the financial and banking industry, and has donated regularly to the School since 1986.
Mr. Langlois and his partner, Mary Célyne Traversy, say they want to leave "a legacy that will let HEC Montréal support new local entrepreneurs so that their businesses can endure and flourish".
His outright gift will go to creating the Programme d'accompagnement Traversy-Langlois. This program will initially support HEC Montréal, Polytechnique Montréal and Université de Montréal students who are starting up or have founded social enterprises. It will later be broadened to cover existing businesses not necessarily connected to the three university institutions.
The program will be directed by the IDEOS Hub, whose mission is to improve the management and corporate governance of social organizations. A resource person has been working since September to co-ordinate the support activities to be offered through the program and liaise with existing resources in the Entrepreneurship, Entrepreneurial Acquisition and Business Families Hub.
"Mr. Langlois' gift creates a bridge between the complementary activities of the IDEOS Hub and the Entrepreneurship hub," says HEC Montréal Director Michel Patry. "It will allow HEC Montréal to expand its role as a driver of innovation and social development. The School is fortunate to be able to count on generous donors like Mr. Langlois to help it continue pursuing its mission."
The bequest portion of the gift will also go to supporting social entrepreneurs. Assistance may take the form of scholarships or loans on trust, specific training or any other initiative aimed at encouraging the long-term survival and growth of social entrepreneurship.