New joint executive program with USEK in Lebanon
July 18, 2017
An HEC Montréal delegation led by Director Michel Patry travelled to Lebanon in early July, to strengthen the School's bonds with the Holy Spirit University of Kaslik (USEK), in particular through a new Essentials of MBA (EsMBA) program.
The program will be offered for executives from the Debbanne Saikali Group, a group of Lebanese companies in the agriculture, energy, telecommunications and other sectors. The first cohort will graduate in summer 2018.
The HEC Montréal representatives also took advantage of their time in Lebanon to salute the success of 20 new graduates of the Specialized Graduate Diploma in Management, a program offered for over 10 years now by HEC Montréal in partnership with USEK.
HEC Montréal has partnered with USEK for over 20 years, including institutional support in the form of faculty training, co-teaching, and offering undergraduate (BBA 2+2) and graduate's-level study programs at USEK.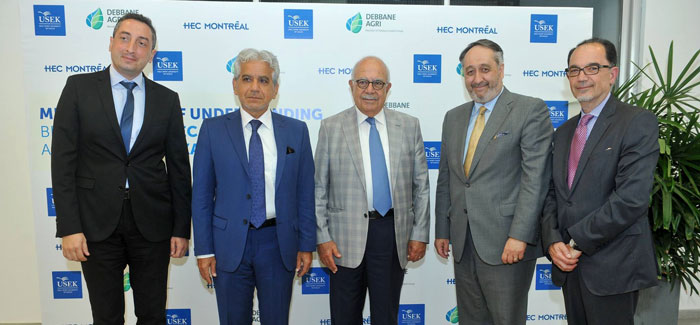 Dr. Georges Yahchouchi (USEK Provost), Dr. Elie Assaf (Dean of the Faculty of Business and Commercial Sciences, USEK), M. Nadim B. Saikali (President of the Debbane Saikali Group), M. Michel Patry (Director, HEC Montréal), M. Hassan N. Taghvaï (Director, International Activities and Student Mobility, HEC Montréal)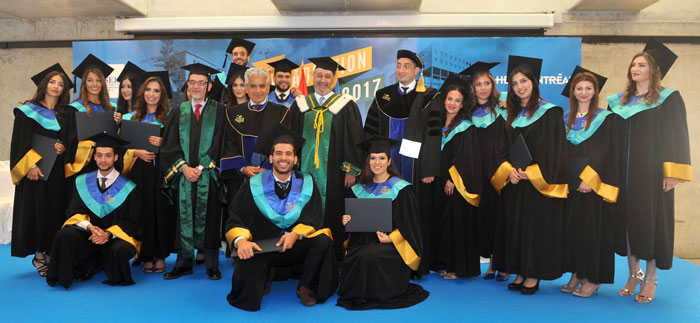 Convocation ceremony – July 6 2017