Bombardier President Alain Bellemare meets MBA students
March 16, 2017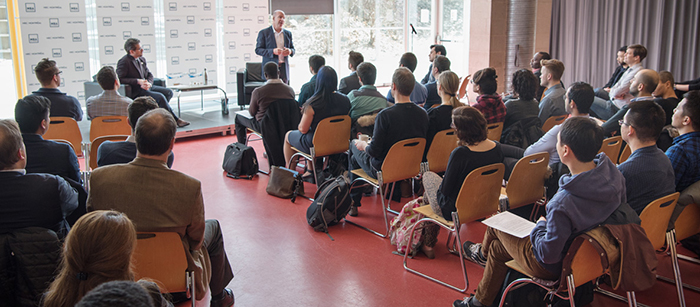 Alain Bellemare, President and CEO of Bombardier, was asked by a student in the MBA program to come meet his cohort. "I just sent him an e-mail asking him to come and speak to us. And he agreed," says Nicolas Dupras, an engineer with Bombardier who is currently on sabbatical and enrolled in the full-time MBA program.
"I get lots of requests like that, and rarely accept them, but his e-mail grabbed me," Bellemare recalls.
When he met the MBA students, Bellemare talked about his career leading to his appointment with Bombardier in February 2015. He then answered questions ranging from the Bombardier supply chain to R&D, the social responsibility of a company like Bombardier and relations with employees and the union.
Bellemare also spoke about what it's like to be President and CEO of a large company and his vision for Bombardier. "Heading up a company like Bombardier has to be a passion, it's my life. You have to surround yourself with people who are smarter than you and have the courage to make difficult decisions, even when you're under enormous pressure. We have a treasure on our hands in Bombardier. The question isn't whether we're going to succeed, but how big of a success we're going to be," he says.
Before being appointed to Bombardier, Bellemare was President and CEO of UTC Propulsion & Aerospace Systems, at the helm of Pratt & Whitney and UTC Aerospace Systems. He was responsible for some of the largest programs in UTC's history, including the integrated aeronautics systems for the Boeing 787, Pratt & Whitney's geared turbofan and the F135 strike-fighter engine.