Jean-Guy Desjardins, le phénix de la finance: a new biography by Jacqueline Cardinal
March 24, 2017
Jean-Guy Desjardins, le phénix de la finance tells the story of a highly regarded figure in the Montréal business community who remains relatively unknown to the general public.
Over the course of four decades, this Distinguished HEC Montréal Alumnus has built two portfolio management firms – TAL Global Assets Management and Fiera Capital – ranked in turn among the country's largest.
"This is the story of a patient and determined businessman who was able to rise from the ashes and start his life over, like the fabled phoenix," says Jacqueline Cardinal, author of the biography and Associate Researcher with the HEC Montréal Pierre Péladeau Chair of Leadership. "As a financier, he has had two professional lives. In 2001, he refused to rest on his laurels after selling TAL Global Assets Management, the investment firm he had led to amazing heights over almost thirty years."
So in 2003, he founded Fiera Capital, end embarked on a no-holds-barred effort to conquer the world. Now, 14 years later, Fiera Capital manages assets worth over $112 billion and is planning to carve out a place for itself in all the leading business centres around the globe.
"At a time when people often lament the lack of leadership in all spheres of society, I consider this inspiring book a must-read for all seasoned and aspiring managers," writes Monique F. Leroux, President of the International Cooperative Alliance (ACI), in her preface.
Distinguished Alumnus
Jean-Guy Desjardins (HEC 1969) was named a Distinguished Alumnus in 2014, in recognition of his accomplished career, his integrity, his social engagement and his exceptional contribution to HEC Montréal's reputation and growth.
Mr. Desjardins sits on several boards of directors, and has been a member of the HEC Montréal board since 2002. He is also a donor member of the Council of Governors of the HEC Montréal Foundation.
The author: Jacqueline Cardinal
Jacqueline Cardinal has penned eight biographies of business leaders, including Jacques Duchesneau, Pierre Jeanniot, Luc Beauregard and Cora Tsouflidou. She has also written a book on the Sid Lee creative firm (Prix Grafika 2008), as well as some forty case studies on leadership, three of which have won Alma Lepage Awards.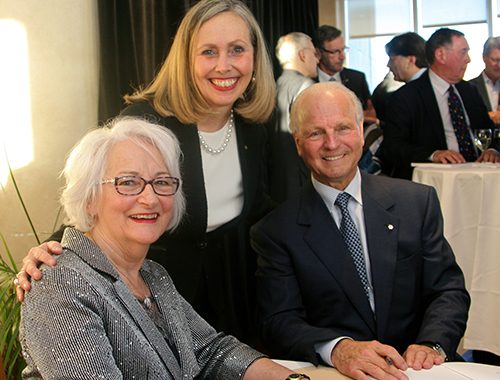 Photo: Jacqueline Cardinal, Monique F. Leroux et Jean-Guy Desjardins. (Credit: René Soudre)
---
Jean-Guy Desjardins, le phénix de la finance, by Jacqueline Cardinal, Presses de l'Université du Québec, March 2017, 230 pages, available at the COOP HEC Montréal.