2017 Business Transfer Awards: 6 Businesses Recognized
June 8, 2017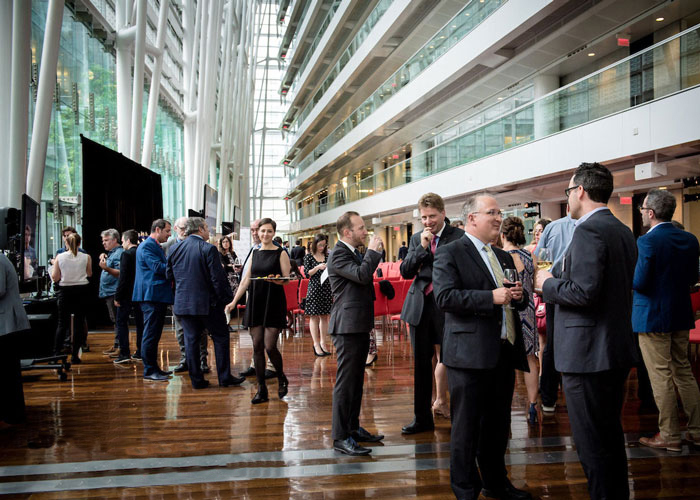 The 11th edition of the Business Transfer Awards crowned 6 businesses on May 29, at a gala evening under the stewardship of Honorary President Ricardo Larrivée, Chef, Entrepreneur and Co-founder of RICARDO Media. The competition, launched by PwC in co-operation with HEC Montréal and several other partners, is intended to salute Quebec businesses that successfully manage their succession processes and keep their companies thriving.
The 6 winning businesses:
FAMILY TRANSFER CATEGORY
Gold
Starting with a mechanical workshop in 1979, Groupe Touchette now operates over 22 distribution centres from Moncton to Vancouver, as well as several retail service centres through its Touchette Pneus Mécanique, Ici Pneu and Tireland banner programs. With over 500 employees, the company is the largest tire distributor in Canada, for tire manufacturers, car dealers and independent customers.
Silver
Founded in 1977, Techno Diesel is the largest heavy vehicle maintenance and repair centre north of Montréal. As it approaches its 40th anniversary, Techno Diesel continues to grow, offering a vast range of goods and services to continually improve its customer service. It has expanded from a regional company, stretching out to cover the entire province.
Bronze
Café Expert is a family business specializing in workplace vending machines. Its mission is to improve the quality of working life for business employees through the efficient distribution of quality products. For over 20 years now, the quality of its service and its products, combined with its hard-working staff, have allowed Café Expert to become an industry leader.
ENTREPRENEURIAL TRANSFER CATEGORY
Gold
Since it was founded in 1990, Agro-100 has been specializing in research, manufacturing and marketing of high technology agricultural products that capitalize on the recovery of residual fertilizing matters. For the company, environmental sustainability means finding innovative ways and using products that reduce our carbon footprint in order to preserve and provide future generations with a fertile and healthy environment, rich in diversity.
Silver
Electrimat was founded in 1980 and acquired in 2011 by its current owners. Since then it has experienced rapid growth. Today the company is a leader in wholesale and retail sales of electrical and heating equipment and lighting, serving the industrial, commercial, institutional, residential and public utility sectors.
Bronze
Vulcan Hoist Co. Ltd. is a manufacturer of lifting equipment established in 1947, the only Canadian manufacturer of electric hoists and trolleys. Vulcan is best known for its ability to custom build products to meet the specific needs of each application. In addition to sales, its qualified local staff lets the company offer rental, repair and certification services.