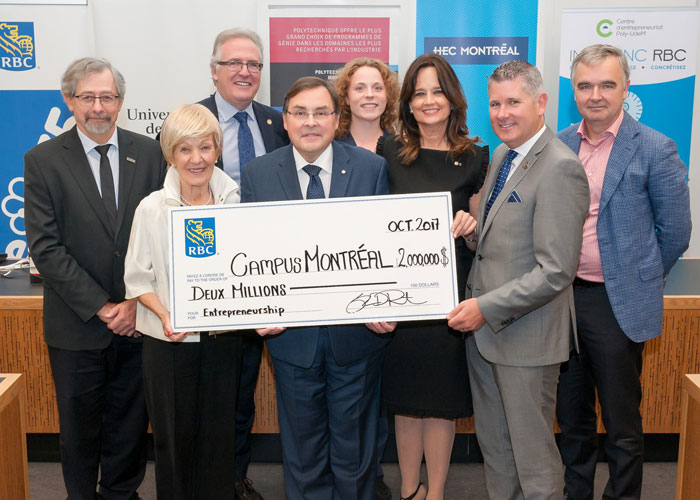 From left to right : Richard Hurteau, Michèle Thibodeau-DeGuire, Raymond Lalande, Guy Breton, Laurence Dumont, Hélène Desmarais, Martin Thibodeau et Alain Bélanger)
Photo : Benoit Champagne
RBC Royal Bank has donated $2 million to the Campus Montréal fundraising campaign, to support the development of entrepreneurial spirit among students and young people.
The generous gesture was announced on October 2, at a ceremony attended by senior Université de Montréal, HEC Montréal and Polytechnique Montréal officials.
Of this $2 million, $1.6 million will go to projects at the Centre d'entrepreneuriat Poly-UdeM, and $400,000 to the IDEOS centre for management of social enterprises and organizations at HEC Montréal.
The RBC donation will be devoted in part to creating to new management tools for social enterprises, so as to support their growth in line with their unique features.
"For the IDEOS centre, this donation by RBC will allow us to pursue co-development activities involving students, professors and social enterprises, leading to innovative processes adapted to the needs of such enterprises," noted HEC Montréal Director Michel Patry.