EMBA McGill-HEC Montréal: Louise Richer inducted into the Order of Canada
January 22, 2016
For her contribution to the development and dissemination of the performing arts as founding director of the École nationale de l'humour, Louise Richer, an EMBA McGill-HEC Montréal student, is to be inducted into the Order of Canada, one of our country's highest civilian honours.
By turns a psychologist, comedian, educator and director, she is far from a typical student. But why did she decide to go back to school in August 2014, joining nearly 40 other participants from a broad range of 21 industries? "I think we have a responsibility to ourselves to stay stimulated and stimulating," she said in an article in the McGill Reporter. "I have this need to learn and to take risks. You learn when you destabilize yourself. And [going back to school] was quite the destabilization!"
EMBA McGill-HEC Montréal co-Director Alain Pinsonneault sings the 63-year-old student's praises: "Our program tries to maximize diversity in the classroom. It was a big plus having Louise with us. She brought a very different perspective from the other students. She's a very dynamic, very curious person. She can understand and analyze complex problems from different perspectives and that's because of her background."*
February 5 will mark the official end of the program for Richer. She will present her final applied research paper, in which she expands on the traditional performer training and humour training for workplaces done by the École nationale de l'humour. She interviewed top executives at the National Bank, Transcontinental, Telus and other large companies, exploring whether humour played a role in their work cultures – and how they use humour as leaders.
The soon-to-be graduate plans to continue this exploration. "Humour and business is becoming a big research area," she notes. "Research is showing that although money is important, the main thing [for employees] is feeling good at work. Especially for younger people. […] Human capital is the main concern around the world. It's not operational excellence. It's not innovation. It's the work climate, it's attraction, it's retention. More than ever, humour is an ingredient in all that."*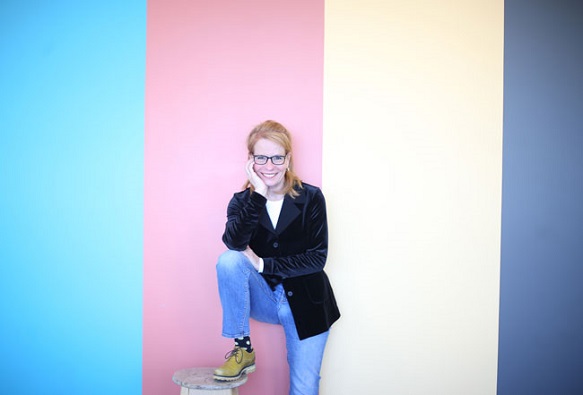 *Source: McGill Reporter – James Martin
Photo: École nationale de l'humour