Climate change and sustainable development: HEC Montréal students and alumni bring young people into international discussions
December 21, 2016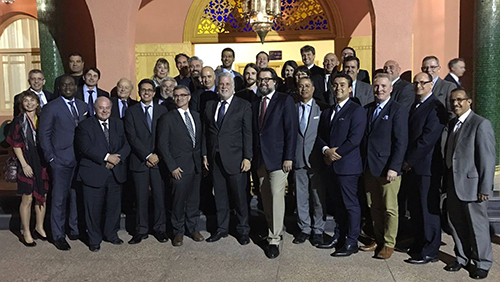 Six young professionals, including five of the School's students and alumni, have founded an association called CAP développement durable (CAP DD) to increase awareness and rally young professionals and future decision-makers around climate change issues. Their initial goal was to assemble a delegation to take part in the Conference of the Parties of the United Nations Framework Convention on Climate Change (COP22), held in Marrakesh from November 7 to 18 of this year. They put together and managed to finance a delegation of some 30 participants, and are now working on a series of projects for 2017.
"Our going to Marrakesh, along with the many meetings we've had with different people in Morocco and Canada, paved the way for some new projects," says Bachir Mouhyi, (MSc), the association's Director and co-founder. "Now we want to prepare a delegation to attend the upcoming COP23 in Germany. Before that, though, we will be attending the Americana environmental forum in Montréal, in March."
CAP DD was founded last year by a multidisciplinary team consisting of Bachir Mouhyi (MSc), Salma Lahmadi (certificate, 2016), Morgane Lassaux (specialized graduate diploma, 2015), Nicolas Eyssallenne (short graduate program, 2016), Marouane Bentefrit (specialized graduate diploma) and Ali Benryane.
"We wanted to create an association to give a voice to young professionals in fighting climate change," says Mouhyi. "After all, it is our generation that will be responsible for the shift to a green, competitive and less carbon-intensive economy within organizations. And the COP is the chief forum for discussing, sharing solutions and networking on climate change issues."
The association received support from the School soon after it was founded, allowing it to organize a symposium to prepare for the COP in Marrakesh on October 17.
"We very quickly won the support of the Chair in Energy Sector Management, the e3 Hub and the School's Office of Sustainable Development," says Sarah Cacoub (MSc), Media Relations Co-ordinator for CAP DD. "That leverage helped us obtain private-sector funding and government subsidies."
During the climate conference in Marrakesh, the delegation organized or co-organized three events: a lecture on technological innovations for a less carbon-intensive economy, a symposium at the Cadi Ayyad University on international co-operation in combatting climate change, and a Morocco–Canada networking evening. The latter event was attended by Quebec Premier Philippe Couillard, David Heurtel, Minister of Sustainable Development, the Environment and the Fight Against Climate Change, and Nathalie Dubé, Canadian Ambassador to Morocco.
"The response was so encouraging that we realized there was a real need and interest in rallying young professionals," says Mouhyi. "We're now working on some new projects aimed at forging academic and economic connections, in particular with other young researchers and professionals in the French-speaking world."
*Photo taken at the Morocco–Canada networking evening. Credit: Jean-Christophe Voyer.